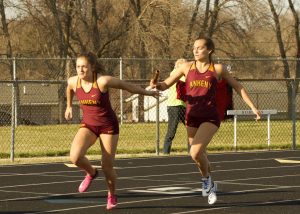 The members of the Ankeny girls' track team are like a family.
That's truly the case for the three sets of sisters on the squad–Megan and Sarah Bosch, Malea and Peyton Daugherty, and Holly and Meghan Trimble.
On Monday, the Daughertys and Trimbles teamed up to win the distance medley relay in the Bobcat Invitational at Marshalltown. They posted a time of 4:26.88 to help the Hawkettes to a third-place finish overall.
"After six meets in the last three weeks, the stress of Drake (Relays) qualifying and prom weekend, we planned Monday's meet to be low-key and changed up our events lineup to use the meet as a workout and allow for the full participation of all of our team," said Ankeny coach Dennis Adamson. "However, that did not mean that we did not have some career and season PRs."
Waukee racked up 187 points to win the meet for the third consecutive year. Valley took second in the seven-team field with 122 points, while Ankeny finished with 99.
The Hawkettes also won the 4×100 relay in 50.03 seconds. That team consisted of Eva van de Mortel, Peyton Daugherty, Mytika Mayberry and Jasmine Rumley.
Meghan Trimble provided Ankeny's other first-place finish. She won the 800 in a time of 2:27.15.
Malea Daugherty placed second in the 100 hurdles. She was clocked in 16.83 seconds.
Rumley was the runner-up in the long jump with a leap of 15 feet 7 inches. Sydney Flatness took second in the shot put with a throw of 36-9.5.
"The throwers had a very good night, highlighted by Sydney throwing just one-half inch short of her career best in the shot put," Adamson said. "We had an especially good night in the discus with Lauren Beardsley, Sam Parr, Jasmine Bentley, Hannah Hogan and Ella Scott all throwing PRs."
Adamson also praised the efforts of freshmen Madeline Murphy and Shelby Romig.
"Madeline had quality runs in the 200 and the 400 leg of her 4×400 relay," he said. "And Shelby continues to get better in the 100 hurdles and the long jump."
Here are the rest of Ankeny's top finishes:
400–Cierra Fillinger, 1:05.34 (6th).
800–Scout Bergwall, 2:29.75 (4th).
1,500–Fiona Riordan, 5:40.35 (4th).
3,000–Lydia Hill, 12:03.87 (4th); Riordan, 12:34.97 (5th).
Long jump–van de Mortel, 15-1.25 (4th).
4×400–Ankeny, 4:14.77 (3rd).
4×800–Ankeny, 10:16.59 (2nd).