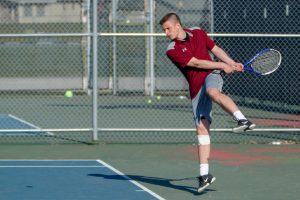 About the only thing separating the Ankeny and Ames boys' tennis teams on Monday was the play of the Little Cyclones' Timmy Ellis.
Ellis dominated both of his matches as the host Little Cyclones posted a 7-4 victory in the CIML Central Conference dual meet.
"Timmy is one of the best in the state and has a very good shot at the singles title," said Ankeny coach Randy Daniels. "And he is just a super kid. He's very humble."
Eight of the other nine matches were extremely close, with each team winning four of those contests. The two teams split a total of six super-tiebreakers.
"It was much closer even than the score shows," Daniels said. "If we come out of singles 3-3, we win the meet."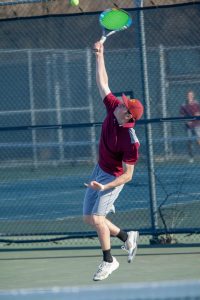 Cameron Bush provided Ankeny's lone victory in singles. He posted a three-set victory over Nate Wilson at the No. 6 spot.
Bush then teamed up with Caleb VanRees for another three-set win at No. 3 doubles. The Hawks also got victories from their No. 4 and 5 doubles teams.
"It's crazy that I am happy when we didn't win, but we really had some guys play well and are getting better," Daniels said.
The win improved Ames to 1-2 in the conference and 4-2 overall. Ankeny's records dropped to 1-2 and 2-2.
Here are the match-by-match results:
Ames 7, Ankeny 4
Singles–Ellis (Am) beat Scheer, 6-0, 6-2; J. Kim (Am) beat Goergen, 6-2, 3-6, 1-0 (2); D. Kim (Am) beat Snyder, 6-1, 7-6 (8); Matthews (Am) beat Schon, 6-1, 4-6, 1-0 (6); Withers (Am) beat VanRees, 6-0, 6-2; Bush (An) beat Wilson, 6-2, 5-7, 1-0 (4).
Doubles–Ellis/Matthews (Am) beat Scheer/Goergen, 6-0, 6-0; D. Kim/Withers (Am) beat Snyder/Schon, 6-7 (2), 6-3, 1-0 (5); VanRees/Bush (An) beat Wilson/Furukawa, 5-7, 6-4, 1-0 (2); Parkinson/Davis (An) beat Wessels/Ibarburu, 7-6 (3), 6-3; Lee/McCann (An) beat Arbuckle/Tian, 5-7, 6-4, 1-0 (9).