The Ankeny girls' tennis team evened its record at 3-3 with a 7-4 victory over visiting Fort Dodge in a non-conference meet on Tuesday.
The Hawkettes won four of the six singles matches and three of the five doubles contests.
"It was a great night for the girls," said Ankeny coach Katie Owens. "They played Fort Dodge tough."
Ankeny's singles winners included Alli Jacobson at the No. 5 spot and Abby Johnson at the No. 6 position. Those two then combined for another victory at No. 3 doubles.
"The girls put together all of their experience from their other matches," Owens said. "It was fun to watch them play with confidence."
The Dodgers (1-5) got victories from Beth Murman and Kathryn Cochrane at the No. 1 and 2 singles positions. Those two also teamed up for a win at No. 1 doubles.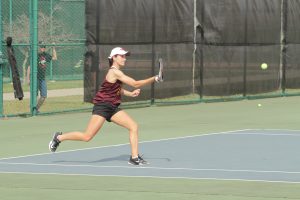 The best match of the day came at No. 2 doubles, where Fort Dodge's Emma Bloom and Brooke Erickson rallied for a three-set victory over Ankeny's Marie Beecham and Katelyn North. They won the super-tiebreaker, 11-9, to earn their first varsity win together.
"That was just a big, big moment for Emma and Brooke," Dodgers coach Martha Mericle told the Fort Dodge Messenger. "They came out slow, but we talked them through some adjustments and they made them on the court."
Here are the match-by-match results:
Ankeny 7, Fort Dodge 4
Singles–Murman (FD) beat Weber, 6-0, 6-0; Cochrane (FD) beat Beecham, 6-1, 6-1; Greathouse (A) beat Bloom, 6-4, 6-2; North (A) beat Breiner, 6-2, 6-3; Jacobson (A) beat Chen, 6-3, 6-2; A. Johnson (A) beat Erickson, 7-5, 6-3.
Doubles–Murman/Cochrane (FD) beat Weber/Greathouse, 6-1, 6-2; Bloom/Erickson (FD) beat Beecham/North, 1-6, 6-4, 1-0 (9); Jacobson/A. Johnson (A) beat Breiner/Chen, 6-2, 6-0; Luther/Penningroth (A) beat Baker/Lunde, 6-4, 6-4; Blatt/R. Johnson (A) beat Clay/Bethke, 6-0, 6-3.