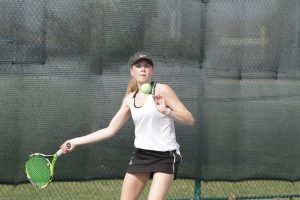 Ankeny Centennial girls' tennis coach Emily Phommachack wanted to challenge her players.
The Jaguars responded.
With Alyssa Lewton–the team's No. 1 player–out of the lineup, Centennial still rolled to an 11-0 victory over visiting Des Moines East in a non-conference meet on Tuesday.
"It was a great night to give players an opportunity to play a bit higher and push themselves," Phommachack said. "I was happy to see the motivation the girls brought out on the courts and the confidence in their stature."
Centennial won all 11 matches in straight sets. Alli Gustafson moved into the No. 1 singles spot and posted a 6-0, 6-2 triumph over Valeria Cruz.
Gustafson, who normally plays doubles with Lewton, then teamed up with her sister, Jordyn, for another victory. They defeated Cruz and Tera Richardson, 6-3, 6-1, in the No. 1 doubles match.
The Jaguars raised their record to 4-3. East dropped to 3-4.
Here are the match-by-match results:
Centennial 11, D.M. East 0
Singles–A. Gustafson beat Cruz, 6-0, 6-2; Miller beat Reidburn, 6-1, 6-0; Nisius beat Youngwirth, 6-0, 6-0; Nemmers beat Coates, 6-2, 6-3; Vandeloo beat Bos, 6-0, 6-2; Bloom beat Lo, 6-0, 6-1.
Doubles–A. Gustafson/J. Gustafson beat Cruz/Richardson, 6-3, 6-1; Bryan/Guan beat Reidburn/Verwers, 6-1, 6-1; Watson/Bendezu beat Youngwirth/Bos, 6-2, 6-1; Ryan/Bockart beat Lo/Conks, 6-1, 6-1; Goode/Brehm beat Luong/Oleson, 6-0, 6-3.