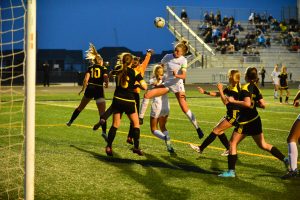 There are times when Ankeny Centennial goalkeeper Nahomi Lopez doesn't see much action on the field, even when she's in the game.
The third-ranked Jaguars boast one of the state's top defensive units, led by the trio of Olivia Brown, Tori Ubben and Olivia Wee. That group made things easier on Tuesday for Lopez, who stopped only three shots as the Centennial girls' soccer team posted a 3-0 victory over visiting Southeast Polk in a CIML Central Conference game.
It was the third consecutive shutout for the Jaguars, who improved to 1-1 in the league and 3-1 overall. No. 14 Southeast Polk dropped to 0-3 and 5-3.
"Sometimes (I get bored), but you still have to stay focused," said Lopez. "One quick counter can really change the game, so you've got to be ready."
Indiana State recruit Carlie Jensen scored two goals and Lexie Gutknecht added another one for the Jaguars. Megan Gray and Marisa Smith each had an assist.
Centennial has scored 19 goals in its last three games after opening the season with a 1-0 loss to Waukee in a shootout on April 13.
"It was good to score those goals tonight, especially because we didn't do that against Waukee," said Centennial senior Kenzie Geiger. "We just tried to follow the game plan."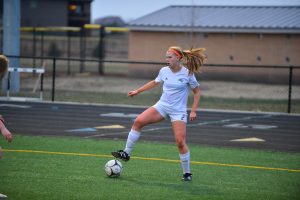 Centennial coach Chris Allen said it took awhile, though, for his team to find some holes in the Rams' defense. The Jaguars led by only 1-0 before scoring twice in the final 16 minutes.
"Actually, the first half I wasn't real pleased with our play, and I don't think the girls were either," Allen said. "We just kind of fell into a pattern of trying the same things over and over, and we needed to be more creative. But in the second half we saw a little more of that."
The Rams played without Sydney Milani, one of their top players. The Iowa State track recruit, who has scored five goals this season, missed the game in order to attend a track meet.
"That's definitely a threat that they didn't have, but they still played hard and had a few chances on goal," Allen said. "They've got a good team, and I think they're going to surprise somebody at some point this season."
The Jaguars, meanwhile, are beginning to find their groove.
"I think we're starting to figure out our identity and how we want to play," Lopez said. "Our practices are going really well, and we're getting it together."