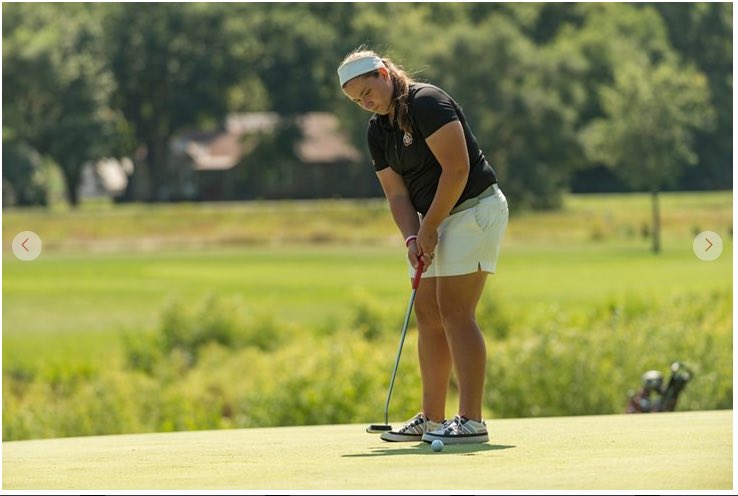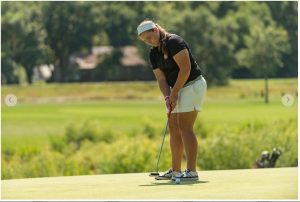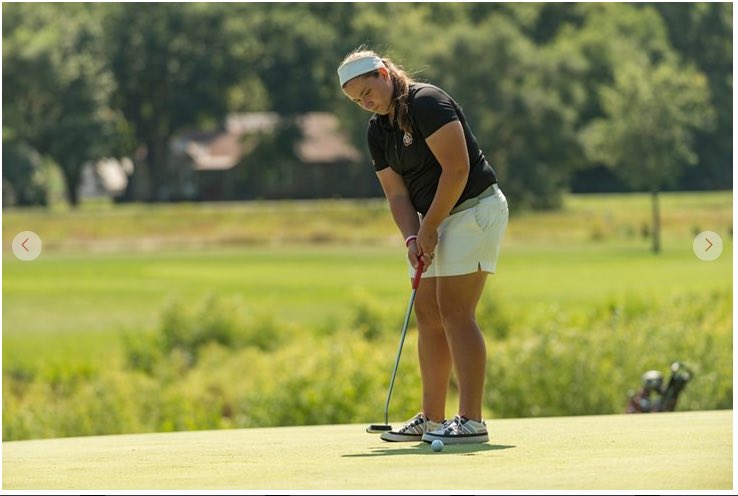 Former Ankeny Centennial golfer Karli Kerrigan is coming home for a second chance.
The 2014 Class 5A state champion has decided to transfer from South Dakota to Grand View after being dismissed from the Coyotes' squad for violating team rules.
"I knew that golf has been such an important part of my life that I wanted to keep playing competitively as long as I could," Kerrigan said. "I feel like I've missed a lot of golf because I haven't played spring season, so to be able to go to Grand View to finish out my career was kind of a no-brainer. Plus, just knowing (Grand View coach) Chris (Winkel) as long as I have and being close to his family, it was an easy decision for me. There was finally a light at the end of the tunnel."
Kerrigan committed to play for the Vikings on March 1. She will have two seasons of eligibility remaining.
Winkel said he isn't concerned at all about bringing Kerrigan onto his squad.
"I don't like to make excuses for anybody, but we all make mistakes," he said. "We don't take those lightly, but we learn from our mistakes and on top of that, I've basically known Karli since she was born. I feel comfortable enough with Karli as a person and given the environment that we have for her at Grand View, I do believe that it's going to be a good fit for her. I have no hesitation going forward knowing that she's going to be a very important, productive part of our team."
Kerrigan was a three-time first-team all-state selection at Centennial before moving on to South Dakota, where she competed in five tournaments as a freshman in 2016. She posted the second-lowest stroke average on the team at 78.21.
However, Kerrigan suffered a torn ACL in her left knee during a workout with her teammates following the season. She then struggled to regain her form during her sophomore year, which ended with a dismal performance in the Drake Invitational on Oct. 9-10 at Echo Valley Country Club in Norwalk.
Kerrigan carded rounds of 87 and 83 for a 170 total that tied her for 37th place overall. She finished ahead of only six other players.
"Our season started out well, but then about midway through the season we started going into a slump," Kerrigan said. "And then I played really poorly at Drake and that really ate at me because I don't want to play bad anywhere we go, but especially in my own backyard. My parents were there, and I felt like if there was one tournament I wanted to play well at it would be Drake. So that really sucked to end the season on such a low note."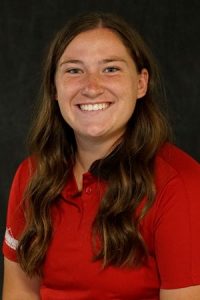 In January, Kerrigan made some poor alcohol-related decisions that led to an indefinite suspension. She was eventually removed from the team.
Kerrigan is now looking forward to a fresh start in a comfortable place.
"We practice every day at Otter Creek, so I'll be 5 minutes from home. I can come home for dinner if I want to," she said. "I definitely think that will help. Overall, I think being in Des Moines will make me a lot happier."
According to Winkel, Kerrigan will instantly become one of the best golfers in the NAIA division. He feels fortunate to land a player of her caliber.
"I always tell people that I have to get lucky," Winkel said. "What that means, for our teams to be successful at the NAIA level, my luck means that I have to somehow get NCAA Division I talent to play for me. And that luck happens a lot of different ways. A player has a bad season during the recruiting season, a player gets homesick and wants to change locations, or something happens in Karli's case at her school and that necessitates a change. For me to get my best players, I call it getting lucky.
"And in this case, I hope Karli got lucky as well. I feel very fortunate to have Karli not only as a player but as a person. I look for her to be one of the best players in the NAIA level and she's certainly going to have a chance to win a national championship as an individual, which I think is very, very exciting," he added.
Kerrigan's former coach at Centennial, Andy Fehn, just wants her to be happy.
"Her health and happiness is what's most important," Fehn said. "I want her to enjoy her college experiences, and I think coming to Grand View and being around coach Winkel will help with that. She's an amazing young woman with the world ahead of her. I think she will do great things with her fresh start at Grand View in the fall."