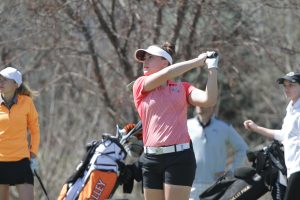 After returning home late from the Linn-Mar Invitational on Tuesday, the Ankeny Centennial girls' golf team didn't have much time to recover.
The Jaguars were back on the golf course Wednesday as they hosted a triangular meet against Valley and Southeast Polk at Briarwood. They shot a 167 to defeat both of their CIML Central Conference opponents.
The Tigers carded a 175, while the Rams finished with a 211.
"We did not putt particularly well, but our ball striking was very solid," said Centennial coach Andy Fehn. "A few loose shots from everyone here and there, but it was a great way to start our conference season at home, 2-0."
Centennial's Tenley Moretti shot a 37 to earn runner-up honors. She finished one stroke behind medalist Paige Hoffman of Valley, who avenged a two-stroke loss to Moretti at the Linn-Mar tournament.
"I think these last few days have formed a good starting point for my season this year," Moretti said. "It's my job this time of year to figure out what points of my game need to improve and how to minimize errors on the course."
Lauren Sease carded a 42 for the Jaguars, while Megan Lazear had a 43. Nikki Ault's 45 also counted toward the team score.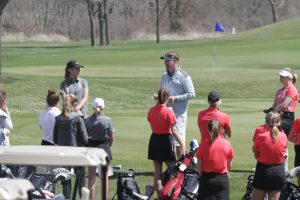 "We talked before we teed off about how it might be close and everyone's score could count," Fehn said. "I am really proud of our two sophomores, Lauren and Megan. Nikki also played well–two loose shots hurt her, but her confidence in her ball striking has really increased over the last few days."
Centennial's Emily Davis shot a 52. Teammate Emma Stoelk added a 56 on her birthday.
The meet was played under sunny skies and warm temperatures, a welcome change from what has been a cold and rainy spring.
"It has been wonderful to be out in such beautiful weather, even though it would've been nice for it to come a little sooner," Moretti said. "I think the team made the most of our first couple tournaments."
Moretti, the 2016 Class 5A state champion, said she believes that most players throughout Iowa are still trying to find a groove.
"I think everyone might feel a little behind," she said. "I don't see that as an issue (for myself), because I'm figuring out how to improve from any practice–big or small. What it comes down to is how I can most build my game for the future, and not just for the next 5 minutes."
The Jaguars will play their third meet in as many days on Thursday, when they compete in the Marshalltown Invitational at Elmwood Country Club.