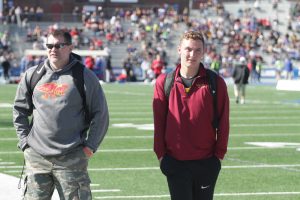 After tying for 11th place in the discus at the Drake Relays on Thursday, Ankeny thrower Jacob Baier was looking to do even better in the shot put on Friday morning.
But it didn't happen.
Baier struggled to take advantage of the perfect weather conditions and finished in 20th place with a throw of 49 feet 3.25 inches.
"It wasn't my best," said Baier. "I think I just need to make sure that I stay focused beforehand, and I need to get a better warmup in."
Baier is now looking ahead to next month's Class 4A state meet, where he hopes to perform much better at Drake Stadium.
"That's my goal," he said.
Ankeny junior Conner Niffenegger was also in action on Friday. He posted a time of 15.78 seconds in the preliminaries of the 110 hurdles, allowing him to place 25th overall.
Niffenegger later teamed up with Cooper Cox, Max Smith and Cael Boyd for a 15th-place finish in the 4×100 relay. The Hawks were clocked in 43.86 seconds.