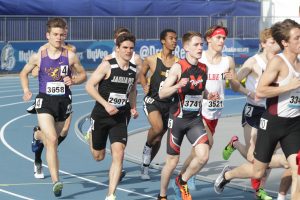 Ankeny Centennial's Camden Cox is already looking forward to Saturday's rematch against Gable Sieperda of Central Lyon.
Sieperda pulled away from the field to win the boys' 3,200-meter run at the Drake Relays on Thursday. He posted a time of 9:11.17 to finish more than 10 seconds ahead of Cox, who was the runner-up in 9:21.77.
"The beauty and hype behind the Drake Relays is largely due to the fact that the competition comes from all classes. The state meet doesn't have that," said Cox. "It isn't often that I get to race Sieperda and I'd like to have that chance to race him again in the 3,200, but unfortunately I won't get to. I still have the 1,600 with him on Saturday. I think that will be an interesting race."
Cox and Tim Sindt of Ankeny were both among the leaders during the first half of the race. While Sindt faded to a 14th-place finish in 9:52.72, Cox kept himself in position to win the race.
However, Sieperda found another gear on the final two laps, running the last 800 meters in a swift 2:10.74.
"I wasn't in the position I wanted to be when Sieperda made his move, and I let him gap me more than I would have liked due to the other runners," Cox said. "I wasn't happy that I let that happen to myself, but that happens and I just had to shake it off. I focused on closing the gap between Sieperda and (Myles) Bach (of Center Point-Urbana) and me the next few laps."
Sieperda credited his coaches and his family for helping him to the victory.
"I've got so many amazing people around me," he said. "My coaches are just amazing, and my family is amazing. I don't know too many other parents that would follow their son (on a workout) for 12 miles on a gravel road in the middle of a blizzard, so I'm thankful."
Cox was hoping to eclipse the time of 9:17.96 that he ran at last year's race, when he finished fifth.
"It would have been nice to run a quicker time than I ran last year, but the pace was slower and more strategic this year than it was last year so I'm not too disappointed with it," he said.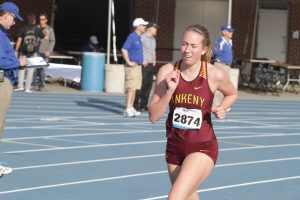 In the girls' 3,000, Ankeny's Alex Robran raced to a 20th-place finish. She was clocked in 10:51.78.
Ellie Friesen of Crestwood won the race in 9:50.44.
"I was hoping for a faster time in a faster field, but I felt like I pushed it as hard as I could," Robran said. "Given the weather, I was happy with it."
The race was part of the Drake Relays' distance carnival on the opening day of the three-day meet. It was contested under sunny skies with temperatures in the 60s.
"It was cold before, and now it's pretty hot," Robran said. "There was no in between to kind of get used to it, but hopefully now in practice I'll get more used to it."
Ankeny thrower Jacob Baier was also in action on Thursday. The sophomore tied for 11th place in the boys' discus with a toss of 152 feet 3 inches.
Baier, who was in the first flight, had his best throw on his final attempt.
"I thought it would be close (to make the finals), and I was right," said Baier, who came up about 4 feet shy of advancing.
Baier owns a personal best of 160 feet.
"I felt like I could have made it if I would have PR'd, but I knew if I didn't PR it was going to be tough," Baier said.