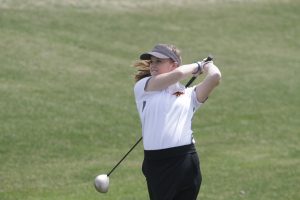 Playing for the first time in nine days, the Ankeny girls' golf team lost to Valley in a CIML Central Conference dual meet on Thursday at Otter Creek.
The Tigers posted a 176-202 victory behind Paige Hoffman, who carded a 39 to earn medalist honors. Teammate Jenna Krogulski was the runner-up with a 40.
Ankeny dropped to 0-3 in the conference. The Hawkettes lost despite improving their score by 26 strokes from their last meet on April 17, when they shot a 228 in a loss to Ames at Otter Creek.
"While we did not win the meet, we did put up our lowest score of the season," said Ankeny coach Seth Hagarty. "For that, I am very proud of the girls."
Ankeny was led by Jaci Webb, who carded a 43. Kelsey Hensen fired a 51, Caroline Price had a 52, and Hannah Loftus shot a 56 that also counted toward the Hawkettes' team score.
"Hannah really surprised me as she is also on the girls' track team, which means she has had to split time between the two sports," Hagarty said. "This was the first time she played varsity for us, and she held her own."
Rachel Moore fired a 60 for the Hawkettes. Lexi Russell added a 62.