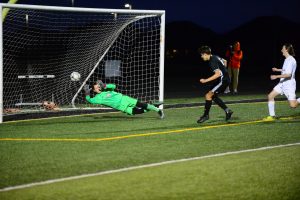 A battle between two undefeated boys' soccer teams turned into a lopsided affair during the second half of Thursday's game at Ankeny Centennial.
After holding a 1-0 lead at halftime, top-ranked Valley erupted for three more goals in the final 40 minutes and cruised to a 4-0 victory over the No. 3 Jaguars.
"It's a tough one for us, but I think it's an important experience for the team," said Centennial senior Alex Keninger. "I think some unfortunate rebounds and weather conditions played a part in some of their goals in the second half, but that said, Valley is still overall a really strong squad."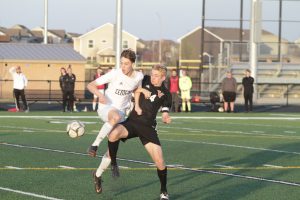 Junior Payton Chapman had a pair of goals to lead Valley. Ronald Anthony scored his team-leading 13th goal of the season, and Renzo Graham added another goal.
Gabriel Sherman contributed two assists in the win. Goalkeeper Ryan Roberts made three saves for the Tigers, who posted their fifth shutout of the year.
Valley improved to 3-0 in the CIML Central Conference and 12-0 overall. Centennial's records fell to 1-1 and 8-1.
"We struggled a little bit to find a rhythm in the second half and stay consistent defensively, but it's just something to learn from and get better at," Keninger said. "We have some more big games this weekend (in Iowa City) so the goal is to bounce back and try and create some results. It obviously sucks to lose, but it's still early in the season and we'll use this as motivation for sure."