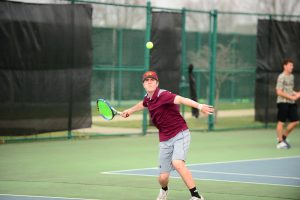 The Waukee boys' tennis team entered Thursday's meet at Ankeny on a long winning streak.
The Warriors then posted their sixth consecutive victory by defeating Ankeny, 9-2, at the Prairie Ridge courts.
"They're especially tough at the 1 through 4 spots," Ankeny coach Randy Daniels said of Waukee. "And the conditions weren't great. The wind was tough, especially without (having) outside practices."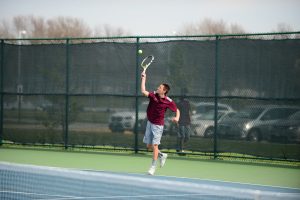 The Hawks' lone victory in singles came at the No. 5 spot, where Caleb VanRees rallied for a three-set win over Wyatt Karras.
Ankeny also won at No. 4 doubles. The duo of Luke Parkinson and Cade Davis posted a 6-3, 6-1 triumph over Adam Severson and Anudeep Akula.
"Caleb did a great job to win in singles, and Parkinson and Davis took a demanding win in doubles," Daniels said.
Waukee improved to 3-1 in the CIML Central Conference and 6-2 overall. Ankeny's records dropped to 1-3 and 3-3.
Here are the match-by-match results:
Waukee 9, Ankeny 2
Singles–Burmeister beat Scheer, 6-2, 6-2; Ecklund beat Goergen, 6-2, 6-1; Weyers beat Snyder, 6-0, 6-0; Fouts beat Schon, 6-0, 6-1; VanRees (A) beat Karras, 2-6, 6-4, 1-0 (6); Stradling beat Bush, 6-2, 6-0.
Doubles–Ecklund/Weyers beat Scheer/Goergen, 6-3, 6-2; Burmeister/Ummadi beat Snyder/Schon, 6-4, 6-1; Karras/Stradling beat VanRees/Bush, 6-1, 6-2; Parkinson/Davis (A) beat Severson/Akula, 6-3, 6-1; Danna/Lavastida beat Lee/Wu, 6-0, 6-3.