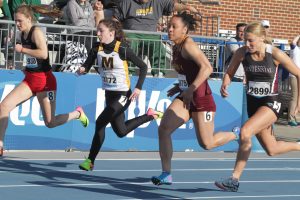 Jasmine Rumley barely had time to catch her breath on Friday.
The Ankeny sophomore competed in four events at the Drake Relays, but was trying to enjoy her busy day.
"It's actually not bad," Rumley said. "My teammates get me going. Just being able to do four (events) is a blessing, so I have nothing to complain about."
Rumley began her day with the preliminaries in the 100-meter dash, where she was joined by teammates Eva van de Mortel and Mytika Mayberry. She posted a time of 12.87 seconds to place 17th.
"My start was iffy, but I feel like I did my best," Rumley said. "That's all I can ask for."
Rumley finished between her two teammates as van de Mortel took 11th in 12.77 and Mayberry tied for 23rd in 12.97.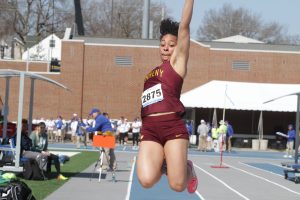 Shortly thereafter, Rumley moved over to the long jump pit, where she scratched on her first two attempts before jumping 16 feet 5.25 inches on her third and final attempt. She finished in 20th place.
"That wasn't close to my best," Rumley said. "But I was still happy with it because my approach was consistent, which is what I've been working for."
Rumley then anchored the Hawkettes to a 17th-place finish in the 4×200 relay. She teamed up with van de Mortel, Peyton Daugherty and Mayberry to post a time of 1:47.57.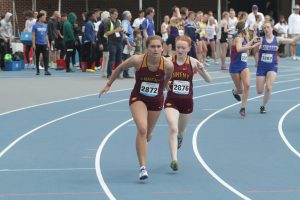 "I'm really happy with it. It's a good time," Daugherty said. "We just wanted to try to get a PR as best we can."
Ankeny finished three spots and .19 seconds behind crosstown rival Ankeny Centennial. The two teams ran in different sections.
"We just wanted to keep up with other teams and to push ourselves," Rumley said.
The same foursome later placed 14th in the 4×100 relay. The Hawkettes were clocked in 50.21 seconds.
Daugherty's sister, Malea, was also in action on Friday. She placed 26th overall in the 100 hurdles in 16.06 seconds.