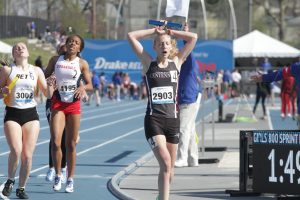 Katie Saddoris calls one of her teammates on the Ankeny Centennial girls' track squad a beast.
On Friday at Drake Stadium, freshman Kathryn Vortherms showed why she has earned that distinction.
Vortherms anchored the Jaguars to a fifth-place finish in the sprint medley relay in her Drake Relays debut. She teamed up with Hannah Wilson, Betsy Ridout and Saddoris to set a school record with a time of 1:49.70.
"It's really awesome to run here," said Vortherms. "It's a lot of fun."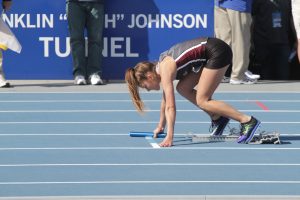 Centennial won the first of three sections in the event. Saddoris put the Jaguars in good position on the third leg, then handed the baton to Vortherms.
Saddoris was confident that her soft-spoken teammate would protect the lead.
"Kathryn's a great runner, and she can always kick it at the end," Saddoris said. "She always helps us pull through."
Linn-Mar (Marion) won the final section in 1:44.07 to capture the event. Only three other teams ran a faster time than Centennial.
"We were super happy with it," Saddoris said of the Jaguars' clocking. "We've been working hard all season, and it paid off."
Earlier on Friday, Ridout placed 15th overall in the 100-meter dash in 12.85 seconds. She was a late addition to the event after another runner was forced to scratch.
Saddoris was also slated to run the 100, but she was disqualified for a false start.
"It was just a slight flinch," she said. "And you know, they're super strict at Drake. I had a feeling it was me (when the second gun sounded)."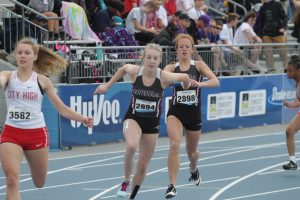 Saddoris and Ridout later teamed up with Karri Pippett and Calea Jones for a 14th-place finish in the 4×200 relay. The Jaguars posted a season-best time of 1:47.38.
Centennial also recorded season-best times in two other relays. Pippett and Vortherms combined with Emma Gordon and Megan Gray to place 16th in the 4×400 relay in 4:06.09.
The Jaguars took 12th in the 4×100 relay. Ridout and her sister, Meg, teamed up with Katie Petersen and Saddoris to turn in a time of 50.11 seconds.
Petersen also competed in the 100 hurdles. She placed 20th in that event with a time of 15.78 seconds.