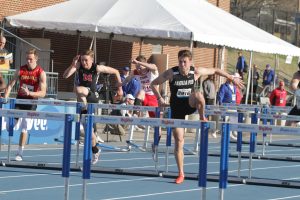 A year ago, Riley Moss won a Drake Relays flag as a member of the winning shuttle hurdle relay team.
On Friday, the Ankeny Centennial senior captured another flag by cruising to a victory in the 110 hurdles at Drake Stadium. He posted a time of 14.04 to win the race by .4 seconds.
Moss' triumph was somewhat anticlimactic. It was overshadowed by his performance in the preliminaries about two hours earlier, when he crossed the finish line in 13.85 to set an all-time Iowa best.
"I just wanted to come out and run a clean race and get into the finals," Moss said. "But I'm happy with my time. It's exciting."
In the finals, Moss took the lead as he cleared the first hurdle and never looked back. He went on to become Centennial's first individual Drake Relays champion.
"I set a goal at the beginning of the year to try not to lose a race, so that's still going strong," Moss said. "And a Drake Relays championship was on that list of things to do, so it was fun to come out and accomplish that today."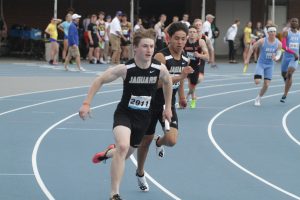 Moss later helped the Jaguars to a runner-up finish in the 4×200 relay. He teamed up with Ryan VanBaale, Avery Gates and Brendan Hoy to post a time of 1:28.24.
"Everyone on the relay was pretty determined to try their best. I think we gave it our all on the track today," Hoy said. "(Moss) sticks to the hurdles most of the time, but he was a good addition to the team."
Cedar Rapids Jefferson won the race in 1:27.14.
"We came out thinking we had a really good shot at winning, but Jefferson ran one of the fastest times ever," VanBaale said. "There's not much you can do about that, but I feel like we ran the best we could. This just gives us some confidence for state."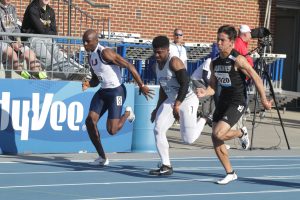 About 20 minutes later, VanBaale returned to the track for the finals of the 100-meter dash. He placed eighth in a season-best time of 11.03 seconds.
It marked VanBaale's fourth consecutive trip to the finals of the 100.
"I was tired, but so were a lot of the guys," VanBaale said. "Six of the eight (finalists) ran in the 4×200, so it's not like I'm going to use that as an excuse."
VanBaale continues to work his way back from an offseason injury to his hamstring. He is hoping to peak at next month's state meet.
"I just wanted to have a good race, and I'm happy because I'm improving my time with every race. That makes me feel good," VanBaale said. "I don't care about winning the Drake Relays. I want to go out and win a state title, and as long as I keep making strides and getting better, that's all I care about."
The Jaguars competed in two other events on Friday. The foursome of Josh Decker, Hoy, Liam Murphy and Ahren Davis placed 18th in the medley relay with a time of 3:39.99.
Centennial was disqualified in the 4×100 relay. That team consisted of VanBaale, Avery and Jensen Gates, and Moss.