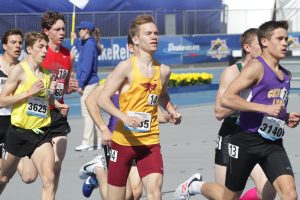 Ankeny junior Tim Sindt is one of the state's top distance runners. He qualified for last weekend's Drake Relays in a pair of events.
Sindt placed 14th in the 3,200-meter run on Thursday with a time of 9:52.72. He finished eighth in the 1,600 on Saturday in 4:23.11.
Here is some inside info on Sindt:
Overall, were you happy with your races at the Drake Relays?
I was glad to be at Drake, however, I know that I am a much better runner than what I demonstrated on Thursday in the 3,200. I am pleased with my 1,600 at this point in the year.
Which of your events did you think you had the best chance to win?
I thought I had a better chance to win the 3,200 because I believe I am more of an endurance athlete than a speed athlete.
Do you think a Drake Relays victory means more than a state title–just because you're competing against the best runners from all classes, including Gable Sieperda of Central Lyon, who won both the 1,600 and 3,200?
I feel like with Class 4A runners state is more important because there is still very good competition, and it is important to be running your best races at the end of the year.
Did you get a chance to meet any of the elite athletes who competed at the Relays?
No.
How much confidence did you gain from winning last fall's Class 4A state cross country meet?
Winning the title gave me confidence in myself that I can compete with any runner in the state.
Do you prefer track or cross country, or do you like them equally?
I like them equally but for different reasons. I like the team aspect of cross country, and I think cross country races are more fun. However, I enjoy the feeling of accomplishment after a track race more.
You appear to have a friendly rivalry with Ankeny Centennial's Camden Cox, who is also one of the state's top runners. Does Camden bring out the best in you?
Yes, Camden brings out the best in me because we both want to win the race, and we compete with each other but we also are very encouraging to each other. If I wasn't to win a race, I would rather lose to Camden than anyone else.
You went through a scary situation earlier this year when you had to undergo surgery to correct a heart problem. Are you confident that you won't ever have to deal with this issue again?
I won't ever have to deal with that again because the surgery was a permanent fix.
Where are you at in the recruiting process? Have you started to look at some schools?
I am still in the early process of recruitment. I have spoken to some schools, but not a lot.
Did you begin hearing from more coaches after last year's state cross country meet?
I heard from a few college coaches after the state meet, but not a lot.
What distances do you think you'll focus on in college?
I'll probably focus on the 5k and 10k.