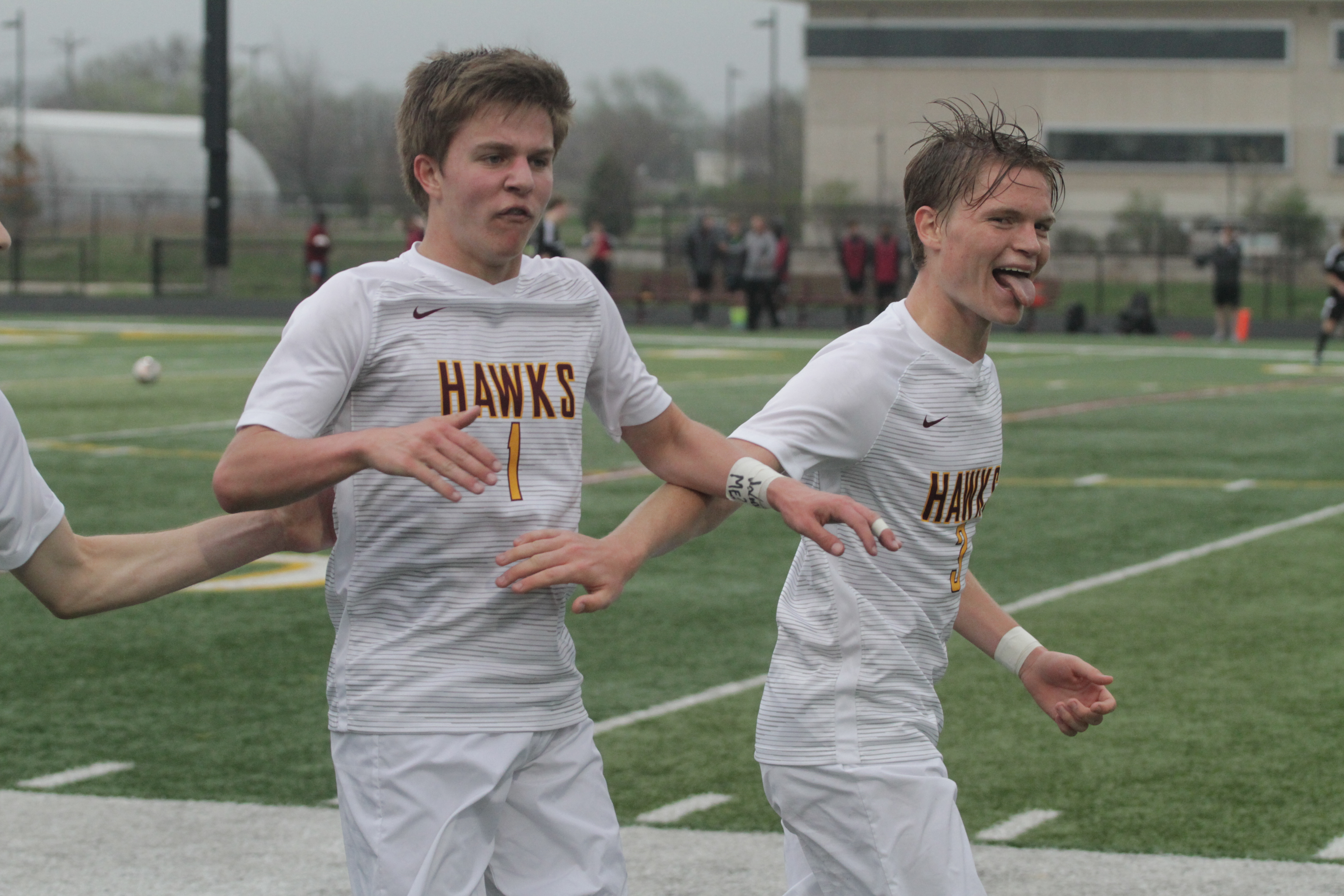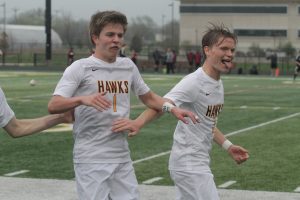 An excessive celebration resulted in a yellow card on Wednesday for Ankeny senior Peter Gaspari.
He happily walked off the field at Ankeny High School and was mobbed by his boys' soccer teammates.
Gaspari scored a goal with about 4 minutes left in the game to seal the seventh-ranked Hawks' 2-0 victory over No. 3 Ankeny Centennial. It was their third consecutive win in the crosstown rivalry.
Gaspari began his celebration with a cartwheel. He then raced down the field and eventually performed a brief dance with teammate Charlie Pritchard, which led to the yellow card.
"I really didn't care," Gaspari said of being forced to watch the rest of the contest from the sidelines. "The game was pretty much over from there. Just celebrating that win, it's all we can do."
The Jag-Hawk battle was postponed on Tuesday due to lightning, giving both teams another 24 hours to gear up for the showdown. When play finally began, the Hawks demonstrated right away that they were ready to defend their home turf.
"Any game at home I think we're definitely going to be dominant, we're going to be confident and we try to make this a difficult place to come and get a win, and I think that's what we did," said Ankeny coach Jordan Burns. "I would say our boys wanted it a little bit more than them."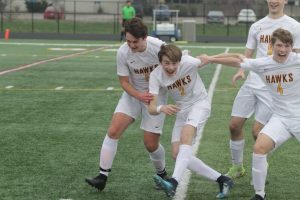 Ankeny took a 1-0 lead on a goal by Spencer Anderson in the 27th minute. It was the senior's first goal of the season.
"(The ball) popped out from the corner, and I chested it down and hit it in the top left corner (of the net)," said Anderson, who committed on Tuesday to wrestle next year at Simpson College. "It felt great."
Anderson said the Hawks had some extra motivation to win the game. Their former coach, Brian Duax, left Ankeny after last season to take over the Centennial program.
"We knew we should be the favorites, but the whole Duax situation made it really hyped up to be what it was," Anderson said. "This day has been marked on our calendar all year."
Gaspari later added his insurance goal in the 76th minute. It was his fourth goal of the season.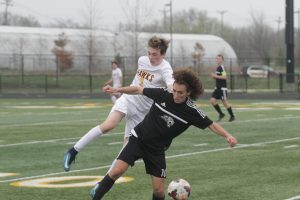 "We won the ball in the back line and then Riley (Wood) got it, and I was just making a run on the back side and he found me," Gaspari said. "It was just an easy one-touch finish. He just set me up perfectly."
Gaspari said he personally wasn't out to get revenge against his former coach.
"It was definitely in the back of our minds, but it wasn't our motivation coming into this game," he said. "We want to come into this game every year and win and dominate the other team. It was just another game to us."
That approach helped Ankeny improve to 2-1 in the CIML Central Conference and 9-2 overall. The Jaguars' records dropped to 1-2 and 9-3.
"It's tough to lose any game, right?" Duax asked afterwards. "This one, the Hawks were pretty motivated–it was pretty evident. It's a tough pill to swallow."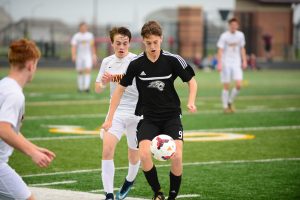 Centennial was unable to generate a consistent attack against Ankeny's stingy defense. The Hawks recorded their sixth shutout of the season.
The Jaguars' best chance to score came with less than 10 minutes left to play, but Ankeny goalkeeper Zack Young made a sliding save to preserve the Hawks' lead.
A few minutes later, Gaspari found the net to clinch the outcome.
"We were not pressing like we normally like to play," Duax said. "We were giving them too much time in space, and that was causing us lots of problems."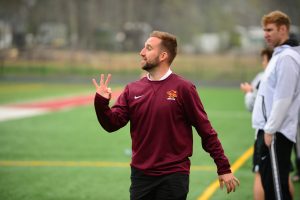 Burns said the Hawks' victory wasn't a fluke.
"We played a little better, and when you put the work in you get rewards," he said. "My guys worked really hard, both defensively and going forward, and they definitely deserved the win."
Afterwards, the Ankeny players posed for a team photo along with their axe, reflecting their workmanlike mentality. Each of the Hawks held up three fingers.
"It feels good to get that third win in a row against them," Gaspari said.