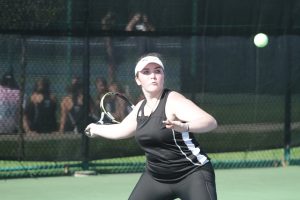 The Ankeny Centennial girls' tennis team may have suffered an 11-0 loss to visiting Ames on Friday, but the final score was misleading according to Centennial coach Emily Phommachack.
The Jaguars lost three super-tiebreakers and a few other close matches to Ames, whch remained unbeaten on the season.
"It was a perfect night for the seniors," said Phommachack. "Everyone got to play, and we showed a lot of enthusiasm on the courts. Unfortunately, the points did not go our way, but I can tell you that these scores do not represent how hard our team put up a fight."
The Little Cyclones won five of the six singles matches in straight sets. The No. 2 singles match went to three sets before Lauren Couves outlasted Centennial's Alli Gustafson.
Gustafson then teamed up with Alyssa Lewton at No. 1 doubles, where the Jaguars dropped a 6-4, 6-4 decision to Ames' Arunadee Fernando and Couves.
"Alli played really well," Phommachack said. "She had a heck of a game in singles."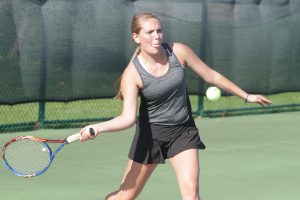 The win improved Ames to 3-0 in the CIML Central Conference and 7-0 overall. Centennial's records dropped to 2-3 and 4-5.
Here are the match-by-match results:
Ames 11, Centennial 0
Singles–Fernando beat Lewton, 6-1, 6-3; Couves beat A. Gustafson, 0-6, 6-4, 1-0 (6); Wilson beat Miller, 6-0, 6-0; Chug beat Nisius, 6-1, 6-2; Zheng beat Nemmers, 6-1, 6-3; Cai beat Vandeloo, 6-3, 6-4.
Doubles–Fernando/Wilson beat Lewton/A. Gustafson, 6-4, 6-4; Couves/Chug beat Miller/Nisius, 6-1, 6-2; Zheng/Cai beat Nemmers/Vandeloo, 6-1, 4-6, 1-0 (3); Liu/Forney beat J. Gustafson/Bloom, 4-6, 7-5, 1-0 (5); Huang/Arbuckle beat Bryan/Guan, 6-4, 7-5.