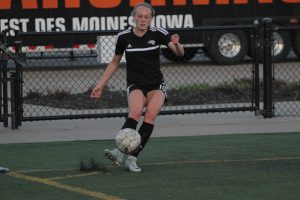 A state championship team often has to be able to overcome adversity somewhere along the way.
The Ankeny Centennial girls' soccer team did just that on Friday.
The third-ranked Jaguars played without two of their best players, lost another key player to an injury in the first half, and still managed to pull out a 2-1 victory at No. 1 Valley. The win avenged last year's 1-0 loss to the Tigers in the Class 3A semifinals.
"I'm not going to lie. That was absolutely a huge win for these girls," said Centennial coach Chris Allen. "We were depleted and we needed grit and heart out on that field, and that's what we saw. We didn't have Meg (Gray), we have Carlie (Jensen) on the sideline and just numerous kids kind of banged up, and we just said, 'You guys go out there and be horses and work hard and you love what you do and fight for it,' and they did."
Gray, a Minnesota recruit, injured her left wrist earlier in the week and was unable to play. Jensen, an Indiana State recruit, has been shut down for the season.
"Carlie goes in for surgery Wednesday," Allen said. "She came into the season with a nagging injury, and it's time to get it taken care of."
The Jaguars then lost Kenzie Langstraat to an injury early in Friday's game. She was helped off the field and did not return.
Shortly thereafter, Valley took a 1-0 lead on a disputed goal by Megan Nelson in the 19th minute. She found the net after some of the Centennial defenders momentarily stopped playing, thinking that the ball had crossed the end line.
Just more adversity for the Jaguars to overcome.
"Something that is huge for our team is team chemistry," said Centennial senior Kenzie Geiger. "When we see our players like Kenzie Langstraat going off with a black eye and a concussion, those kind of things motivate us to play more for each other. That was definitely a huge factor in the win. We were all playing for each other, and it was a really good team win."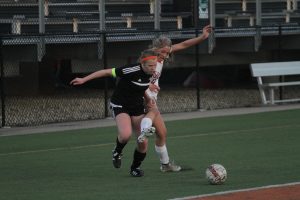 Geiger scored the equalizer for the Jaguars in the 27th minute. She deflected in a direct kick by Nahomi Lopez.
"It was an awesome ball," Geiger said. "I kind of just hit it with my stomach. It wasn't much skill; I just knew I had to get something on it. I kind of flung my body at it, and it went in."
The Jaguars later scored the go-ahead goal off another direct kick about 3 minutes into the second half. Lizzy Johnson blasted a ball from just outside the 18 that deflected off Valley keeper Leann Grandia, and Marisa Smith scored off the rebound for her first goal of the season.
"It wasn't pretty, but the girls were gritty and that's what it took," Allen said.
Centennial's defense then held off numerous attacks by the Tigers the rest of the way. Keeper Marissa Lopez had six saves for the Jaguars, who improved to 3-1 in the CIML Central Conference and 7-2 overall.
"That was an awesome win," Geiger said. "I'm just really excited right now."
Valley (2-1, 7-1) lost for the first time since last year's Class 3A championship game. The Tigers had been averaging four goals per contest.
"We knew what we were up against," said Centennial defender Olivia Wee. "We just kind of stepped up to the challenge, and we were ready. They're a really physical team, so mainly we just marked them and tried to frustrate them."
Wee, a junior, has committed to play for Iowa State. And so has Valley forward Abbey VanWyngarden, who scored the winning goal against the Jaguars in last year's state tournament.
"I love playing against Abbey," Wee said. "It's really fun to play against my (future) teammates. I've actually gotten to play against quite a few of them throughout the high school season."