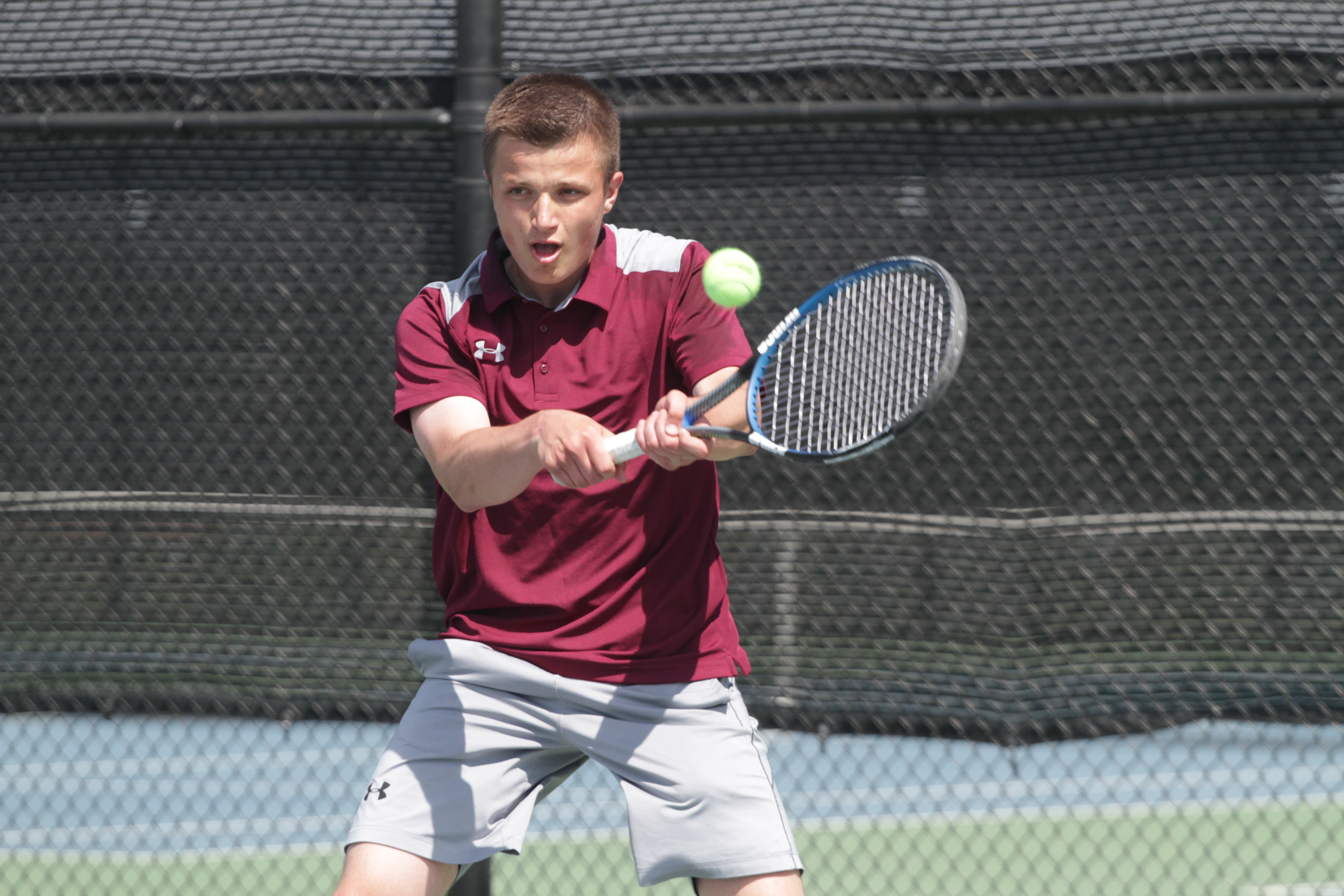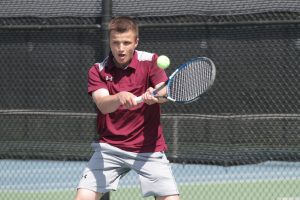 Wednesday's Class 2A district tournament at Valley Southwoods Freshman High School was a bittersweet one for Ankeny boys' tennis coach Randy Daniels.
Daniels informed his players the night before that he was retiring from his coaching and teaching duties. He spent 33 years as a teacher in the school district and served as the Hawks' head coach since 2012.
"It was much harder than I thought it would be," said Daniels. "No time was ever going to be easy (to tell them), but we got pretty close to a lot of these guys and many of them went through the lean years with us, and sometimes that makes you a little stronger and the bond a little bit deeper. It's never been about wins and losses anyway; it's been about getting better."
Daniels was an assistant coach under longtime head coach Dennis Hoefle before Hoefle suddenly died on Dec. 29, 2011. He then took over the program the following spring and guided the Hawks through the transition to two high schools in 2013.
"It really wasn't part of the plan," Daniels said. "There's no way that I would have done it if John Pete(rsen) hadn't stepped in to be my assistant. I needed somebody there who wasn't just a body, and he knew that. I needed a strong support person, and he's been that. It's been a good ride for us. I wouldn't take back anything that we've done the last six or seven years."
On Wednesday, Ankeny placed third in the team standings behind Valley and Marshalltown. Although the Hawks (5-5) failed to qualify anyone for the individual state tournament, they will play again on Saturday when they face the Bobcats (6-5) in a preliminary substate match at Marshalltown.
The winner will advance to the substate team tournament on May 19 at Ankeny.
"It's going to be pretty tight, especially with the 6/3 format," Daniels said. "It'd be nice to come back to Ankeny and get another chance to play Ames."
Daniels entered his top two players in singles at the district tournament. Logan Scheer earned the No. 2 seed, but lost in the second round to Jack Langenwalter of Indianola.
Jayce Goergen easily won his first match before falling to Jack Gruening of Marshalltown.
"It wasn't the best draw for us," Daniels said. "We had seen Valley, and we thought we knew what they were going to do. So we thought our best chance was to send Logan and Jayce in singles, and it all worked out pretty good. We got the seeds that we thought we deserved, but Logan just didn't have his best stuff."
Ankeny's Andrew Snyder and Andrew Schon teamed up for a fourth-place finish in doubles. They advanced to the semifinals before losing to Valley's top-seeded duo of Moise Habienza and Roy Jensen.
"They got the No. 4 seed and took advantage of it," Daniels said. "They took Valley's top team to a tiebreaker in the second set, and they were up 3-1 in the tiebreaker before Valley pulled it out. But they didn't have anything to lose, and they played really well."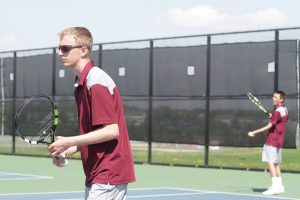 Ankeny's other doubles team of Caleb VanRees and Cameron Bush won their opening match before losing to Valley's No. 2 doubles team. Bush, a junior, is among the underclassmen who will be back next year and playing for a new coach.
"I feel bad for some of the younger kids who have stepped up for us," Daniels said. "They've really improved, and you'd like to stick it out and see them through the end of their high school career. But there's always going to be some younger kids every year."
Here are Ankeny's match-by-match results:
Singles
Scheer received a bye; lost to Langenwalter (I), 6-3, 6-3.
Goergen beat Garton (DMN), 6-0, 6-0; lost to Gruening (Mar), 6-3, 6-3.
Doubles
Snyder/Schon received a bye; beat Burns/Weichman (DME), 6-2, 6-3; lost to Habienza/Jensen (V), 6-1, 7-6 (4); lost to Galles/Myneni (V), 6-2, 6-4.
VanRees/Bush beat Miller/Upchurch (I), 6-3, 6-3; lost to Galles/Myneni (V), 6-2, 6-2.