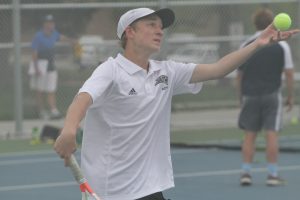 Ankeny Centennial's Sam Marold finally made it to the boys' state tennis tournament in his senior season.
Teammate Will Blevins is only a freshman, but he qualified, too.
Both players were pretty happy about it.
Blevins captured the singles championship in a Class 2A district tournament on Wednesday at Dowling Catholic, while Marold teamed up with sophomore Ryan Lofgren to claim the doubles crown as the Jaguars easily won the team title on a windy day.
"We thought that if everything played out according to plan that we could win the matches that we won, but everybody had to be spot-on and perfect and what are the odds of that?" asked Centennial coach Tami Lewton, whose squad advanced to the substate team tournament on May 19. "But it actually happened. Everybody played to the level that they're capable of, and we're really pumped. It was an exciting day."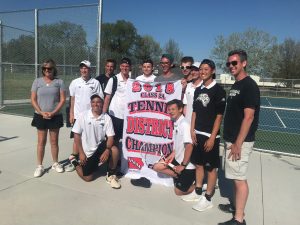 The second-seeded Blevins avenged one of his two losses with a three-set victory over top-seeded David Lu of Dowling in the finals. He improved his record to 14-2 on the season.
"It feels amazing to make it to state as a freshman," Blevins said. "I've put in a lot of work, and I'm glad it has paid off."
Blevins cruised through his first two matches, losing a total of just one game. He then outlasted Lu, who placed eighth in last year's state tournament.
"I feel like the key to beating David was to start out strong and always believe that I could win, especially after a tough loss to him earlier in the season," Blevins said. "But, hats off to David for having a great season and making it to state also. He is a very good player to compete against."
Lu had defeated Blevins to win the No. 1 singles flight at the Dennis Hoefle Invitational on April 20. Blevins' only other loss came a week later to Timmy Ellis of Ames, who placed third at state a year ago.
"We knew Will would be in the mix to win it, but you're talking about a freshman going up against a senior (in Lu)," Lewton said. "You never know how that will play out, but Will stayed positive and focused and just closed out the match."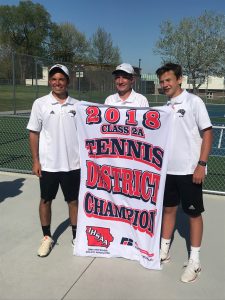 Marold and Lofgren, meanwhile, breezed to the doubles title. They won all three of their matches in straight sets to raise their record to 11-5.
"It feels incredible to finally make it as a senior," Marold said. "I was definitely confident going in as the No. 1 seed, but I didn't want to overlook anybody."
The Centennial duo posted a 6-3, 6-4 victory over Dowling's Eddie Bening and Jack Drey in the finals.
"Sam and Ryan just really played spotless," Lewton said. "They made very few errors and were just very aggressive. They really played well."
The Jaguars' other doubles team of James Cole and Samson Densmore reached the semifinals before losing to Bening and Drey in three sets. They went on to place fourth after losing another three-set battle in the third-place match.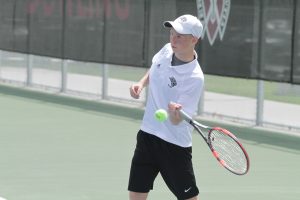 Centennial's Zach Peterson competed in singles and won his opening match before losing to fourth-seeded Ben Badger of Des Moines Lincoln in three sets.
"All of our guys contributed, and every point was crucial," Lewton said. "We won (the team title) by seven points, but we needed every win that we got."
Here are Centennial's match-by-match results:
Singles
Blevins received a bye; beat Mitch Rice (SEP), 6-0, 6-0; beat Donovan Chleborad (DC), 6-1, 6-0; beat David Lu (DC), 6-3, 3-6, 6-4.
Peterson beat Blake Beaune (SEP), 6-0, 6-2; lost to Ben Badger (DML), 6-4, 4-6, 7-5.
Doubles
Marold/Lofgren received a bye; beat Schulteis/Fraizer (DC), 6-0, 6-2; beat Clarkwilts/Clarkwilts (Nor), 6-2, 6-1; beat Bening/Drey (DC), 6-3, 6-4.
Cole/Densmore beat Hall/Joss (Nor), 6-4, 6-1; beat Kramer/Maharry (DMR), 6-2, 6-1; lost to Bening/Drey (DC), 2-6, 7-5, 6-1; lost to Clarkwilts/Clarkwilts (Nor), 5-7, 7-6, 1-0 (5).