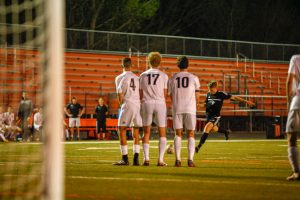 There's a good chance that the Ankeny Centennial boys' soccer team will get a chance to avenge Tuesday's 3-1 loss at Ames.
Both squads have been placed in Class 3A Substate 6 by the Iowa High School Athletic Association.
"If you ask me, I think we'll play them again in two weeks," said Centennial coach Brian Duax. "And I'll take the win in two weeks versus getting a win now."
Ben Frazee and John Swanson each scored a goal and also had an assist as the Little Cyclones improved to 2-2 in the CIML Central Conference and 4-4 overall. Centennial's records dropped to 1-3 and 11-4.
Will Overberg scored the lone goal for the sixth-ranked Jaguars, who were playing their fourth game in seven days–all of them on the road.
"We were not prepared properly, and I take the blame for that," Duax said. "I was talking to some of the boys afterwards, and none of us can remember the last practice session we had. We've just had so many games here recently."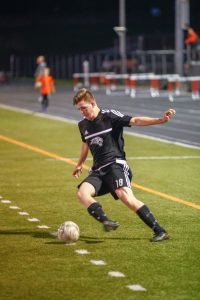 Ames struck first in the 13th minute when Frazee headed a pass to the feet of Swanson, who fired a shot past Centennial goalkeeper Cole Pankey. Then, just 2 minutes later, Frazee added a goal of his own to give the Little Cyclones a 2-0 lead.
"We knew Frazee and Swanson were going be their attack, and they were," Duax said. "We knew that going in, but we just weren't mentally prepared."
Overberg scored on a penalty kick in the 22nd minute to pull Centennial within 2-1. His shot was blocked by Ames goalkeeper Ben Schwartz, but he tapped in the rebound for his 12th goal of the season.
The Little Cyclones later added an insurance goal in the 56th minute, when Swanson booted a cross to Grant Welk, who found the net to give Ames a 3-1 advantage.
"We knew (the Jaguars) were a good team," Swanson told the Ames Tribune. "They're in our substate, so we knew obviously we had to bring it to them and see what they had. We just had to take it to them."
Duax is hoping that the game will be a learning experience for his team.
"I think it'll be a wake-up call," he said. "Ames has been to state three or four years in a row, and they're a state-caliber team. In order to reach our goals, we need to be able to beat a team like them."