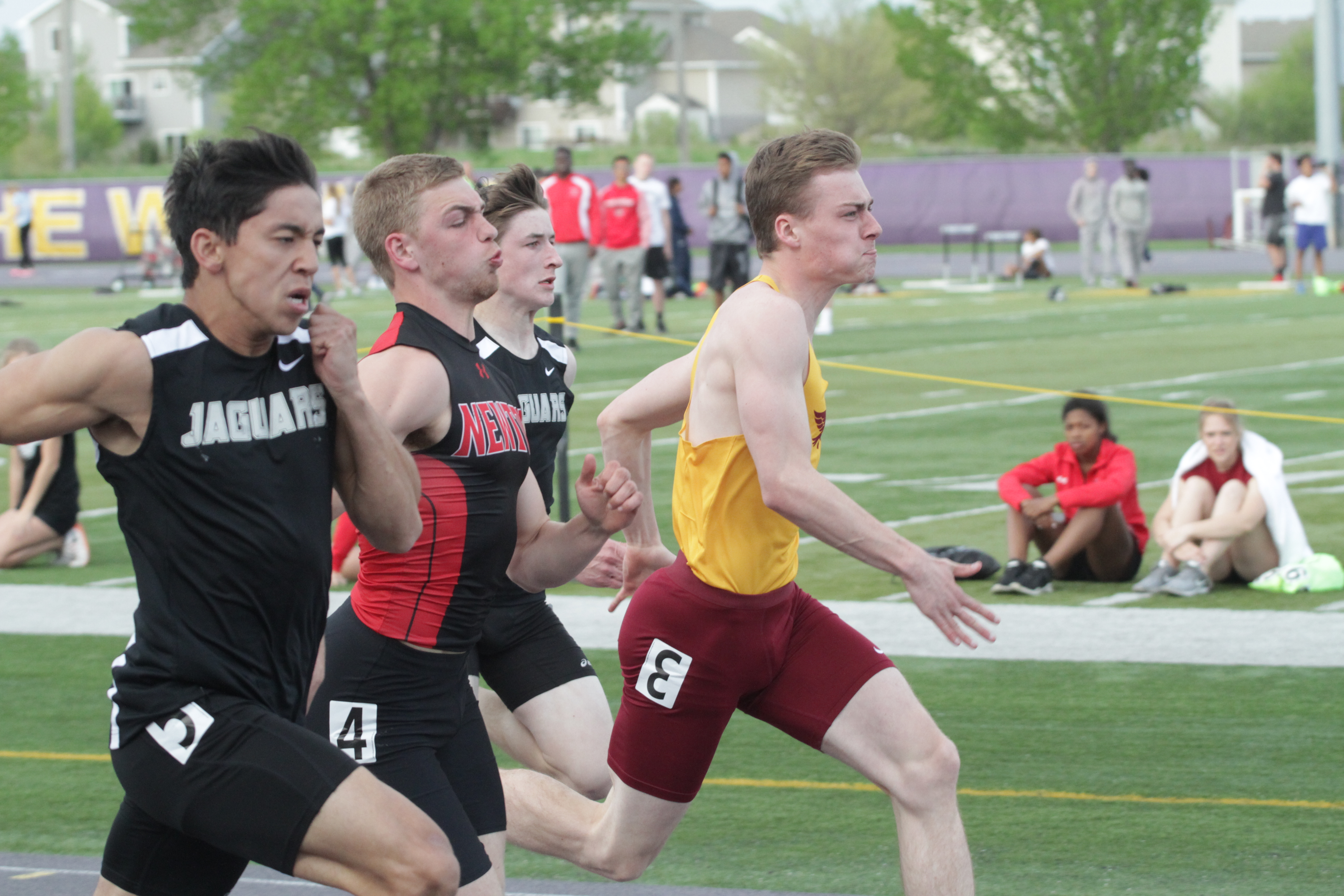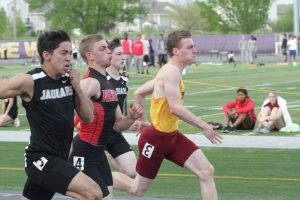 As Ankeny Centennial's Camden Cox and Ankeny's Tim Sindt approached the finish line on Thursday, neither runner went all out for the victory.
The two distance standouts finished 1-2 in both the 3,200 and 1,600 events, and the duo also helped their teams to a 1-2 finish in the distance medley relay at a boys' Class 4A district track meet at Waukee. The top two finishers in each event automatically qualified for next week's state meet at Drake Stadium.
"Tim and I have a pretty friendly rivalry. It's always fun to race him," said Cox. "Of course the goal is to make it to state, no matter how. I was fine as long as I was in the top two. I was happy with it."
Waukee won the district title with 196 points. Centennial was second in the eight-team field with 161.5, while Ankeny finished third with 124.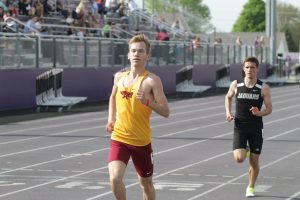 Both the Jaguars and Hawks qualified for the state meet in numerous events.
"Districts is all about getting to state," said Centennial senior Riley Moss, who won the 110 hurdles and anchored the winning 4×100 relay. "I got in and I'm happy, so it was a good night."
The two Ankeny schools battled head-to-head in several events. Centennial's Ryan VanBaale won the 100 in 10.98 seconds, while Ankeny's Max Smith was the runner-up in 11.02.
"I just wanted to come out here and win and move on to state," said VanBaale, who also placed second in the 200 and ran on the winning 4×100 and 4×200 relays. "That was all I was intending to do, but breaking 11 (seconds) was nice. It gives me more confidence going to state."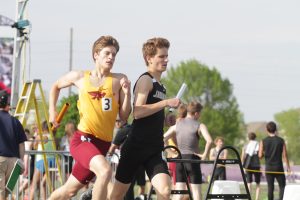 Ankeny won the 4×800 relay in a time of 8:17.03, edging its crosstown rival by 1.56 seconds. Junior Cole Johnson rallied the Hawks from behind.
"I hate it. It's a lot of pressure," Johnson said of running the anchor leg. "But this is my first time ever going to state, and I felt like I had to kick it. I didn't want to take any chances at getting third, and I felt like I had to win it for my team."
While Johnson sprinted to the finish line, Sindt and Cox had a different strategy in their races. They opened the night by jogging the first few laps of the 3,200 before eventually pulling away from the field.
The duo smiled at each other as they crossed the finish line in unison. Sindt was credited with the win in 10:06.62, while Cox was clocked in 10:06.63.
"I actually enjoyed that race. It was nice and easy," said Sindt, who later edged Cox by .05 seconds in the 1,600. "Cam and I–neither one of us wanted to lead it. So we talked and we said we'll see what happens but then we can put on a good move on Lap 6, and we did that and kind of separated ourselves from everyone else."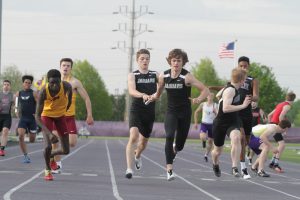 Cox, who sat out last week's CIML Central Conference meet due to an injury, anchored Centennial to a victory in the distance medley relay. The Jaguars posted a time of 3:35.90.
"I just had a little foot problem, but I'm back now," Cox said.
Ankeny was in fourth place when Sindt got the baton for the 800-meter anchor leg. He rallied the Hawks into the lead before settling for a second-place finish.
"I like starting behind the other guys (on my leg)," Sindt said. "It gives me something to chase after when I'm running."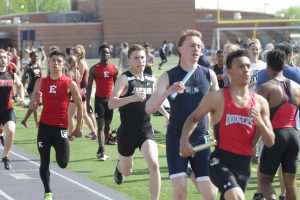 Moss cruised to a win in the 110 hurdles, posting a time of 14.03. He won the race by more than a full second on a night when his time didn't really matter.
"I don't like to get beat," Moss said. "I like to give my all every time, so it's tough when the coaches tell you to just get through (the race). It's tough to hold back."
Centennial placed second in the sprint medley and 4×400 relays. The Jaguars also got a runner-up finish in the 800 from Ahren Davis, who set a personal best of 1:59.09.
Ankeny took second in the shuttle hurdle relay in 58.27 seconds, earning a spot on the school's all-time top-five list. That team consisted of Cael Boyd, Max Griffin, Mason Thompson and Connor Niffenegger.
Moss anchored Centennial to a third-place finish in that event in 58.77. That is among the performances that could qualify for state on a time basis.