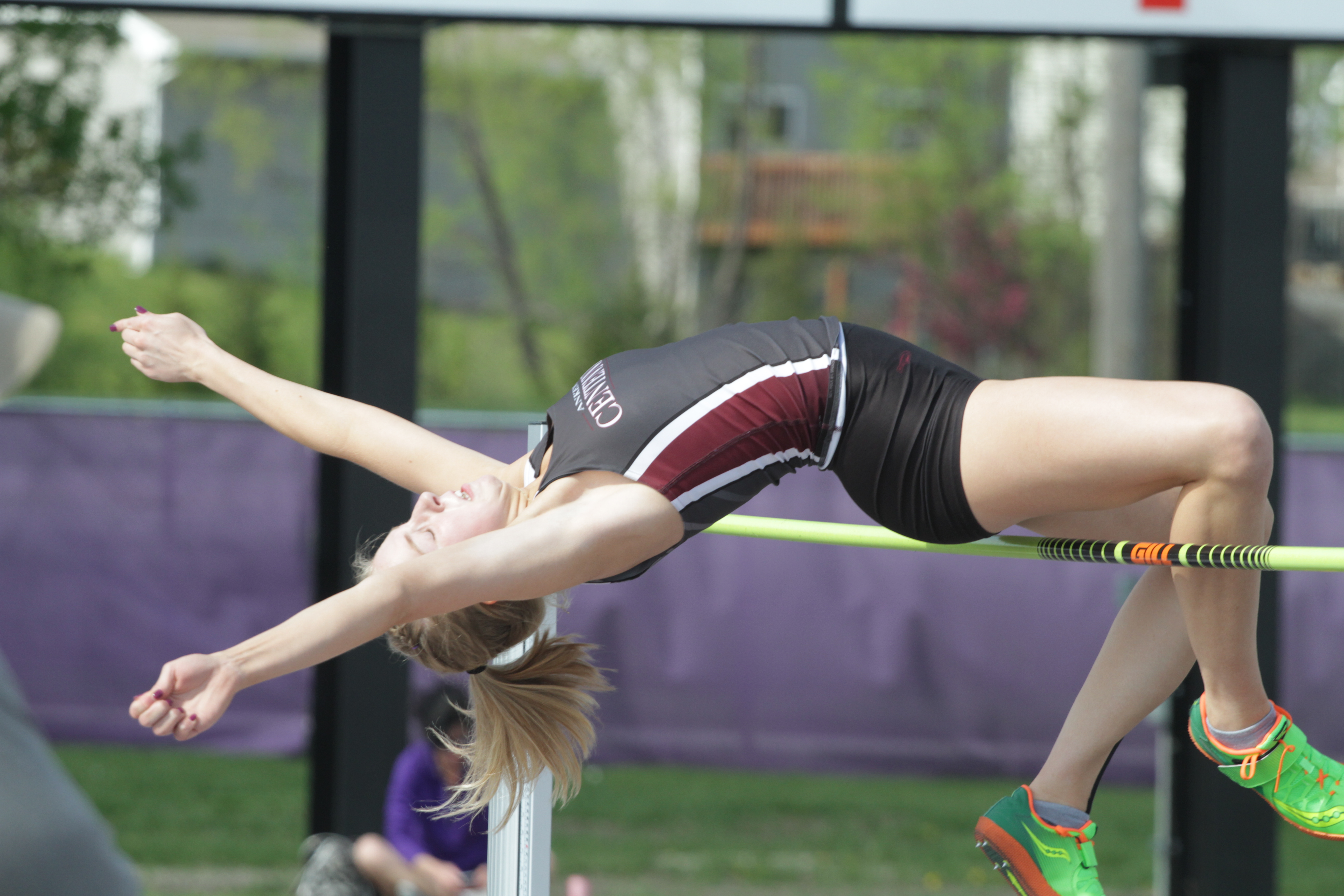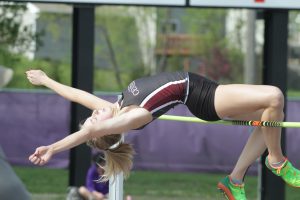 A bundle of nervous energy paid off in a big way Thursday for Ankeny Centennial's Calea Jones.
The sophomore had a hand in three school records as the Jaguars placed second in a girls' Class 4A regional track meet at Waukee. She won the high jump and ran on two runner-up relays that also qualified for next week's state meet at Drake Stadium.
"I was very, very nervous at school all day," said Jones. "I asked everyone in my biology class to pump me up to help me get ready. I think being nervous really helps me improve more when it comes down to the actual meet."
Waukee easily won the team title with 234 points. Centennial finished with 132.
"It was a great night for us," said Centennial coach Andrew Kruzich. "That performance is an all-time high for our program when evaluated with the (Iowa Association of Track Coaches) power rankings and puts us in good position for state. It should be a fun week."
Ankeny, meanwhile, placed third in the eight-team field with 94.5 points. The Hawkettes moved ahead of Des Moines Roosevelt and into third place by winning the next-to-last event, the 4×100 relay.
The foursome of Eva van de Mortel, Peyton Daugherty, Mytika Mayberry and Jasmine Rumley posted a time of 49.08 seconds.
"This feels amazing," said Rumley, who anchored the Hawkettes to a second-place finish in that event at last year's state meet. "The night was pretty rough, but to come together and run that race, that was awesome."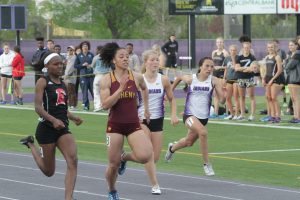 Rumley rebounded from a dismal performance in the long jump, one of her best events. She entered the meet as the No. 1 seed with a jump of 17 feet 7 inches, but she only jumped 14-7 on Thursday and finished in 10th place.
Rumley placed third in the 200 in 26.16 seconds and finished fourth in the 100 in 12.38. The top two finishers in each event automatically qualified for state, but she will likely advance in both of those races on a time basis.
"It just wasn't my day, and it wasn't the right place to not have a good day," Rumley said. "I just had to move on from (the long jump). I couldn't let it affect the rest of my night because I had to make it to state in my other events."
Centennial got off to a good start when Jones won the high jump with a leap of 5-2. Halley Brocker of Roosevelt also cleared the bar at 5-2, but Jones earned the victory via fewer misses.
"There are so many people that are so good," said Jones, who previously held the school record at 5-1. "I really just push myself, and I do think the nerves help me a lot."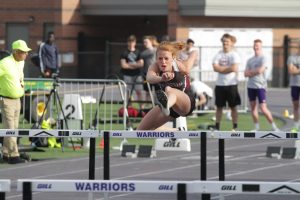 Jones then anchored the Jaguars to a second-place finish in the shuttle hurdle relay. She teamed up with Katie Petersen, Meg Ridout and Karri Pippett to post a time of 1:06.00, which set a school record.
Jones later teamed up with Betsy Ridout, Megan Gray and Katie Saddoris to set another school record. That quartet took second in the 4×200 relay in a time of 1:45.60.
"That's three school records in one night," Jones said. "I'm pretty happy with that."
Centennial earlier set a fourth school record in the 4×800 relay. The team of Emma Gordon, Sophia Lee, Gray and Savana Alt placed second in that event in 9:43.60.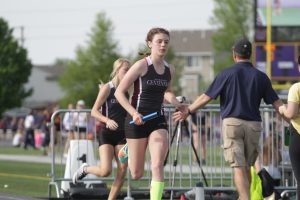 Gray, one of the state's top middle-distance runners, showed off her versatility by running in both the 4×800 and 4×200 relays. She also ran on the third-place 4×400 relay.
"I think I've always kind of been a sprinter. It's just that we've been really strong in the sprints the last couple years," Gray said. "Getting an opportunity to run the 4×2 really meant a lot to me, because I've got a lot of good friends who are sprinters and I never really get to run with them. So this has been a lot of fun for me so far."
Gray, a Minnesota soccer recruit, also plays for Centennial's girls' soccer team. She suffered a hairline fracture in her left wrist during a game at Ankeny last week.
"I actually ran the 4×2 for the first time outdoors this season at conference last week with my cast on, so the coaches decided I could probably run a little faster once I got my cast off," Gray said. "We went out and did very well as a team."
Petersen placed second in the 100 hurdles in 15.18 seconds, which nearly broke another school record. Pippett was the runner-up in the 400 hurdles in 1:08.39.
Freshman Kathryn Vortherms anchored the Jaguars to a second-place finish in the sprint medley relay.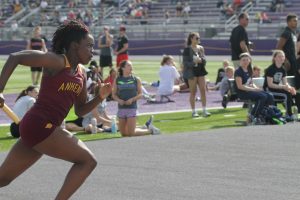 "Four of our relays ran season-best times and we had 15 PRs in individual events, not counting the others we had in relay splits," Kruzich said. "The girls really came through in a big meet.
"We won't know for sure until (Friday) afternoon, but we are expecting 16 qualifiers in 14 events–including all seven relays. But we shall see. The Drake Relays taught me never to count my chickens before they are hatched," he added.
Ankeny got a second-place finish from Sydney Flatness in the shot put. The Hawkettes also got a third-place finish in the 100 from van de Mortel, whose time of 12.31 will likely allow her to advance in that event along with Rumley.
Another likely qualifier is Alex Robran in the 3,000. She placed third in a time of 10:42.97, finishing just .7 seconds behind runner-up Peyton Kelderman of Waukee.
However, both the Hawkettes and Jaguars had some near-misses as well.
"We missed a second high jump (qualifier) because our 4-10 (by Sophie Lampe) was fifth and other 4-10s in the rest of the state were in weaker districts and placed higher," Kruzich said, citing one example of a close call. "So we are very happy with the night, but the close misses are painful."