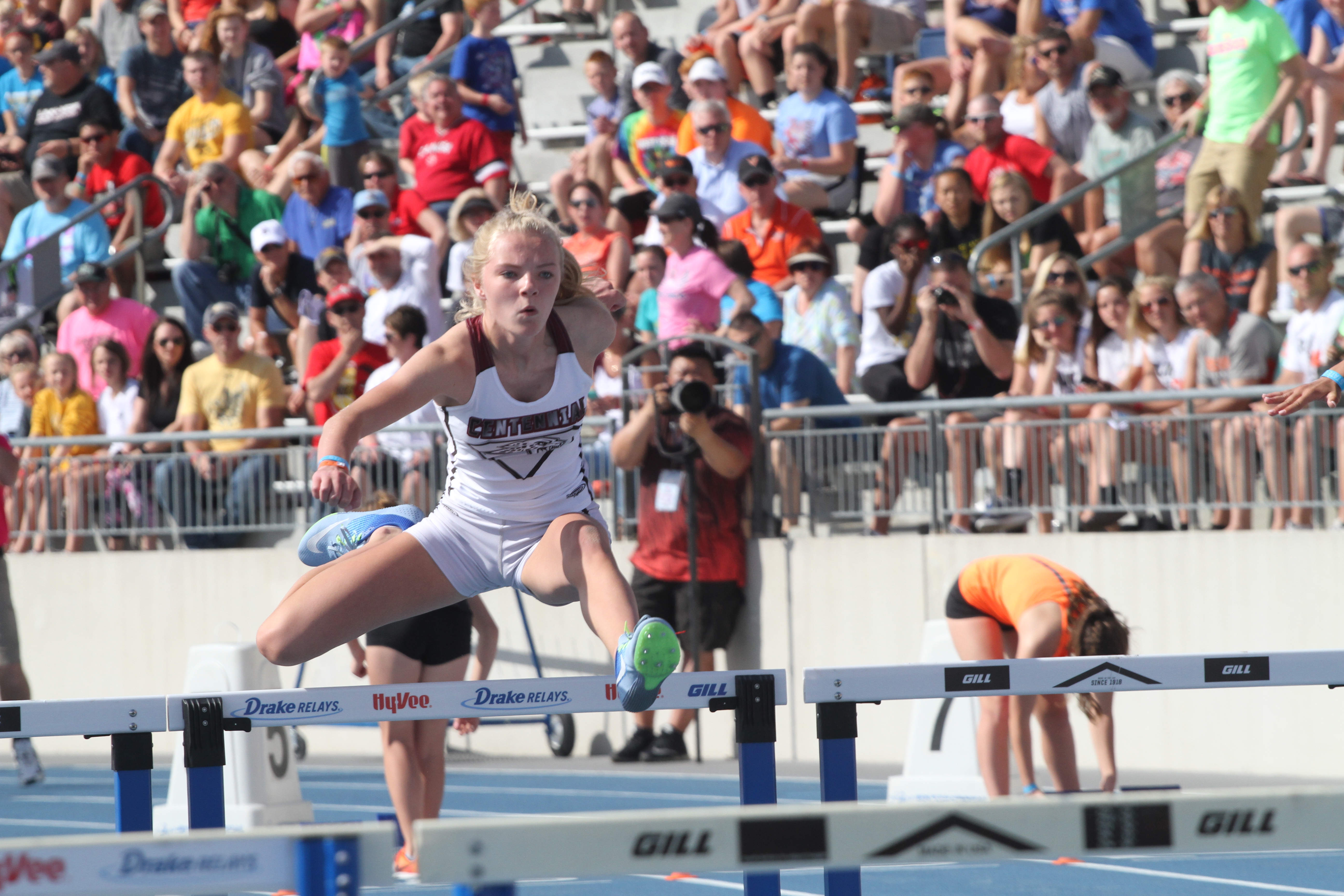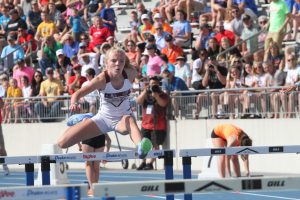 After setting four school records in a Class 4A regional meet a week ago, the Ankeny Centennial girls' track team erased three more on Thursday in the opening day of the state meet at Drake Stadium.
Sophomore Calea Jones again broke her own school record in the high jump. She tied for third place in the event with a leap of 5 feet 3 inches.
"I was very happy," said Jones. "Coach (Andrew Kruzich) told me that I tied for third, which I totally was not expecting at all. I was very nervous."
Jones earlier helped the Jaguars to a new school record in the shuttle hurdle relay. She teamed up with Katie Petersen, Meg Ridout and Karri Pippett to post a time of 1:05.02 in the preliminaries.
"I'm super excited," said Pippett. "We've worked really hard this week, and our focus has been perfect. You can tell a change at the end of the season–we're running more for each other, and I think that's really been helping."
Jones said the Jaguars were also aided by the favorable conditions. The meet was held under sunny skies with temperatures in the 70s.
"The weather was really good," Jones said. "There was hardly any wind at all for the shuttle hurdle, which we hadn't had yet this season. And I anchor, so the wind is always against me. So it was really nice."
Centennial posted the fourth-fastest qualifying time in the event. Waukee ran the fastest time of 1:02.13, nearly 2 seconds better than Dowling Catholic.
"We're going to try really hard to stay up with (Waukee)," Pippett said. "We'll run our hardest."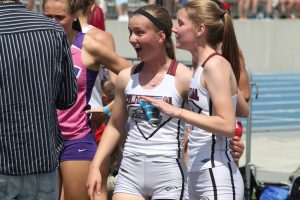 The Jaguars later placed seventh in the 4×800 relay with a time of 9:38.64, which set another school record. That team consisted of Emma Gordon, Kathryn Vortherms, Sophia Lee and Savana Alt.
Both Vortherms and Lee had personal-best splits.
"We're excited," said Gordon, who battled through traffic on the opening leg to run a season-best split. "We just wanted to have fun and enjoy the experience, but we were also hoping to place."
The Jaguars wore their brand new uniforms that Kruzich unveiled the night before.
"We had no idea we were getting them," Gordon said. "We really like them, though."
Ankeny also competed in the 4×800 relay. The quartet of Madeline Murphy, Scout Bergwall, Megan Bosch and Meghan Trimble placed 11th with a time of 9:49.58.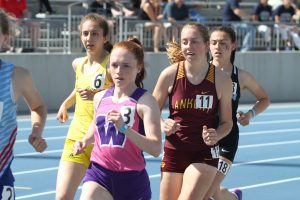 The Hawkettes got a 10th-place finish from Alex Robran in the 3,000. She posted a time of 10:51.86.
"I was hoping for a top-eight finish, but I'll take 10th. That's good," Robran said. "It's better than what I got the last couple of years."
Robran finished behind five other runners from the Central Iowa Metropolitan League, including two apiece from Johnston and Waukee.
"I tried to stick with some girls that I knew would pull me," Robran said. "They're all really nice girls, and we all push each other."
It was the final high school race for Robran, who will run for Minnesota-Duluth next year.
"I'm excited for the next chapter, and I think it'll be really good," she said.
While Centennial scored 7.5 points on Thursday, Ankeny was shut out. The Hawkettes had high hopes for sophomore Jasmine Rumley in the 100 and 200, but she failed to qualify for the final in both events.
Here are the rest of Ankeny and Centennial's results from Thursday:
100–Rumley (A), 12.74 (11th); Eva van de Mortel (A), 12.79 (15th); Hannah Wilson (AC), 13.27 (24th).
200–Rumley (A), 26.63 (18th).
400–Claire Wubben (AC), 1:02.18 (21st).
3,000–Jeanne Peters (AC), 11:11.43 (17th).
Shuttle hurdle–Ankeny (Ella Hawkins, Malea Daugherty, Emma Kach, Shelby Romig), 1:09.99 (16th).