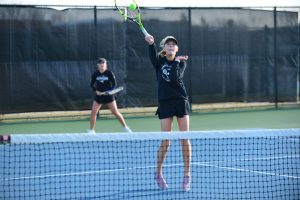 When Ankeny Centennial's Alyssa Lewton needed a pep talk on Wednesday, her doubles partner was there to provide one.
Alli Gustafson helped Lewton snap out of a funk during the duo's semifinal match in a girls' Class 2A regional singles and doubles tennis tournament at Southeast Polk. They went on to earn a second-place finish, allowing them to advance to the state tournament on May 30-31 in Iowa City.
"I think the key to winning in the semis was teamwork," said Lewton. "I struggled a little bit in the second set and Alli really got me back on track, and we came back to win the third (set). It was awesome to have a partner to mentally psych me up and get me back into it."
The second-seeded Lewton and Gustafson received a first-round bye before rolling to a 6-1, 6-0 victory over Council Bluffs Jefferson's Jenna Midkiff and Allisa Schubert in the quarterfinals. The Centennial tandem then outlasted Dowling Catholic's Sofia Sackett and Rockie Greenslade, 6-4, 3-6, 6-3, to punch their ticket to the state tournament.
"I went into today confident that we could pull off the win," Gustafson said. "During the second set, I could tell Alyssa was starting to lose some of her fire that we thrive on. We always do so much better if we are relaxed and having fun, and that's what I told her. I looked at her and said that we were going to state. After that, we relaxed and played our game, which secured us our place at state."
Lewton, a senior, and Gustafson, a junior, then dropped a 6-1, 6-0 decision to Dowling's top-seeded Anna Wanek and Kaylyn Chleborad in the finals. Both teams qualified for the state tournament, giving Lewton her second straight trip to the doubles event.
Last year, Lewton and Maddie Volk teamed up for an eighth-place finish to become the first placewinners in school history.
"It feels very satisfying to go back to state after all the hard work," Lewton said. "This season was a little rough for me so it's exciting that it's going to culminate at the state tournament."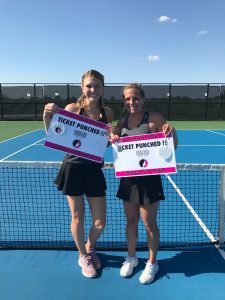 Centennial coach Emily Phommachack said she was proud of the resilience that Gustafson and Lewton showed in their semifinal match.
"They both had incredible communication and placed their shots so their opponents had to work for it," Phommachack said. "They dug down and made a decision to play smart and aggressively against Dowling's No. 2 team. It was a nailbiter to say the least, but they deserved the win with their great strategy and 'flow' as a doubles team."
Centennial's other doubles team of Katie Miller and Rita Nisius received the No. 4 seed, but lost in the quarterfinals to Waukee's Puja Mekala and Megan Severson, 6-2, 6-1.
"They had a tough match," Phommachack said. "It's too bad the points didn't land the other way, but I'm extremely proud of those two ladies for their efforts."
The Jaguars entered Grace Nemmers and Olivia Vandeloo in singles play. Vandeloo cruised to a 6-1, 6-1 victory over Des Moines East's Rachel Reidburn before losing to Southeast Polk's Ally Stutzman by the same score, while Nemmers fell to East's Valeria Cruz in the opening round by another 6-1, 6-1 decision.
"I was proud of how those two played in singles," Phommachack said. "They worked very hard for each point."