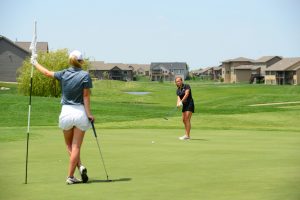 The Ankeny Centennial girls' golf team earned a runner-up finish in the Hawkette Invitational on Thursday at Otter Creek, despite playing without its top golfer.
The Jaguars posted a team score of 356 in the 18-hole tournament. Their lineup did not include senior Tenley Moretti, the No. 1 golfer in Class 4A.
"(We had) 3 PRs on the front 9 today," tweeted Centennial coach Andy Fehn after the meet. "Nice job ladies!"
Valley easily won the team title, shooting a 334. Ankeny placed fourth in the five-team field, posting a 409 on its home course.
"(We have) played 36 holes in the past two days," tweeted Ankeny coach Seth Hagarty, whose team shot a 390 at the CIML Central Conference meet on Wednesday. "Great job ladies! Proud of this team!"
Jenna Krogulski of Valley carded a 5-over-par 76 to earn medalist honors. Centennial's Lauren Sease overcame a 9 on the par-5 11th hole to earn runner-up honors with an 81.
Both Sease and teammate Nikki Ault had a personal best 38 on the front nine. Ault matched Sease's 43 on the back nine and placed third overall with an 81.
Megan Lazear took ninth for the Jaguars with a 94, Elli Teeple was 13th with a 100, and Emily Davis finished 14th with a 101. Claire Beath, who filled in for Moretti, added a 110 that included a personal best 46 on the front nine.
The Hawkettes were led by Jaci Webb, who placed fifth with an 84. Webb made two birdies, helping her to overcome triple bogeys on a pair of par-3 holes.
Ankeny's Caroline Price finished 16th with a 106. Kelsey Hensen shot a 108, Lexi Russell had a 111, Rachel Moore fired a 120, and Hannah Loftus added a 123.