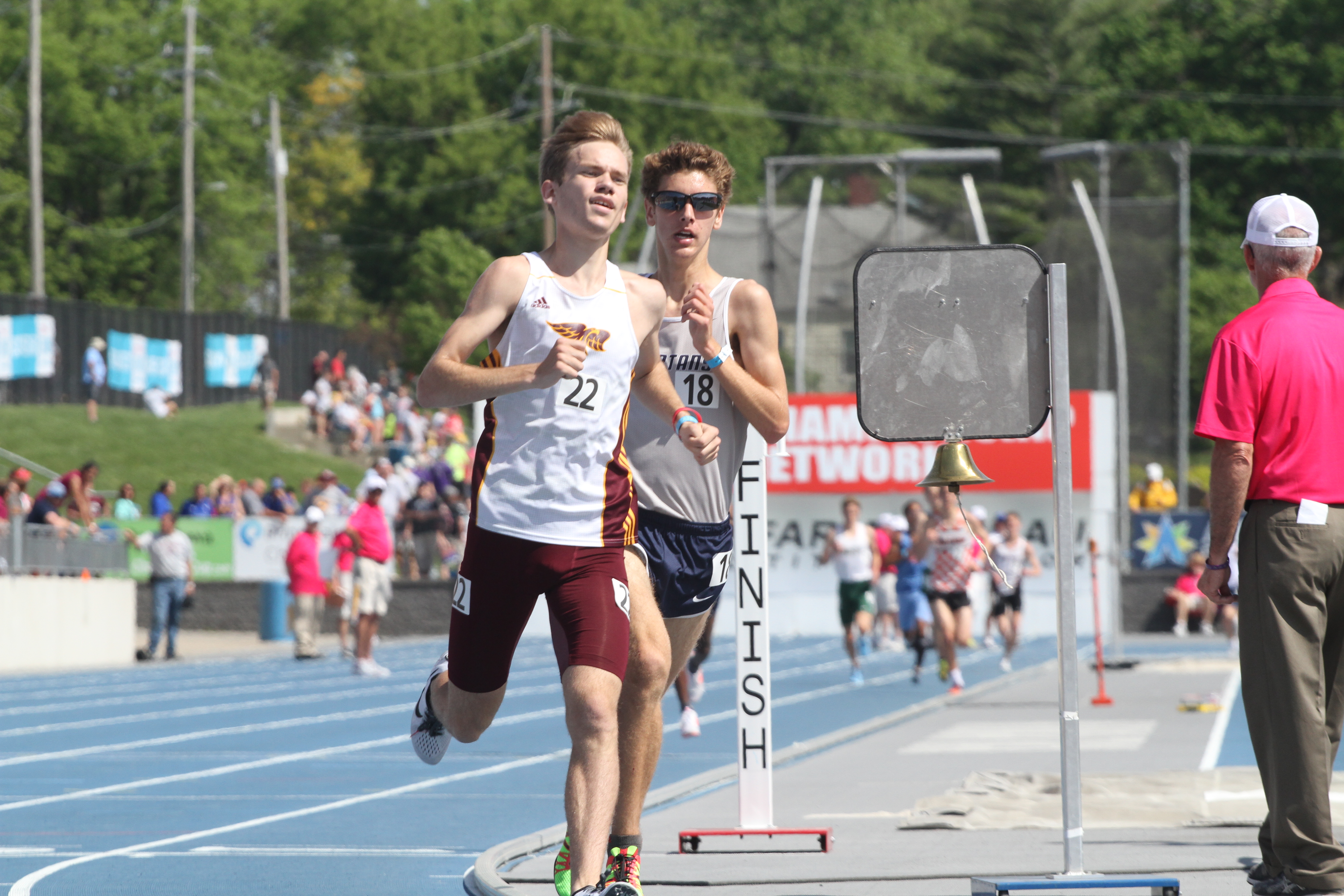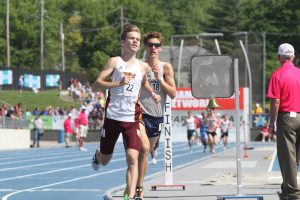 An anticipated battle between distance standouts Tim Sindt of Ankeny and Camden Cox of Ankeny Centennial never materialized on Thursday at the boys' Class 4A state track meet.
The two runners were considered among the favorites in the 3,200, but neither one was able to bring home the crown. While Sindt ran a strong race and finished third with the second-best time in school history, Cox struggled to a 19th-place finish on the same track where he placed second in the event at the Drake Relays last month.
"I wasn't feeling very good this week," said Cox, who posted a time of 10:02.86. "Hopefully, I can bounce back a little (in my other races)."
Sindt, who won the Class 4A cross country title last fall, was clocked in 9:19.38. He finished 3.59 seconds behind the winner, Konnor Sommer of Pleasant Valley.
"My goal was to win, but I am very happy with my time and place considering the path I have taken to get here," said Sindt, who underwent surgery to correct a heart problem earlier this year.
Matthew Carmody of Dowling Catholic set a fast early pace. He ran by himself for the majority of the race.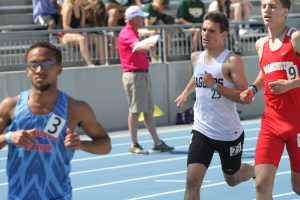 "He's the type of runner that gets out hard and he'll end up placing better, which is what happened," Cox said. "I wish I would have been up there."
Sindt was tempted to push the pace as well, but he decided to hang back.
"When Carmody went out fast my first instinct was to go with him, but I've been planning on running smart and steady all week and I think that even though he beat me, that was a smart decision," Sindt said.
Carmody eventually lost the lead, then regained it before Sommer passed him again on the final lap. Carmody placed second in a time of 9:17.39.
"I'm excited to come back next year to show them what I've got," said Sindt, a junior.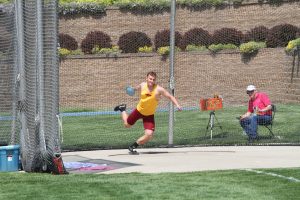 Ankeny also got a ninth-place finish from sophomore Jacob Baier in the discus. He posted a throw of 155 feet 5 inches on his first attempt before scratching on his next two throws.
"I was happy because I did place a lot higher than what I was ranked going into it, but at the same time I scratched a PR throw," said Baier, who was seeded 18th in the event. "So I feel good with what I did, but at the same time I could have done better."
Cox's performance was part of a rough day for the Jaguars. Teammate Ryan VanBaale placed 10th in the 200 (22.38) and 12th in the 100 (11.30), failing to qualify for the final in either event.
VanBaale, who was the runner-up in the 100 last year and placed fifth in the 200 as a freshman in 2015, can now focus on the relay events. He is expected to run in both the 4×200 and 4×100 on Friday.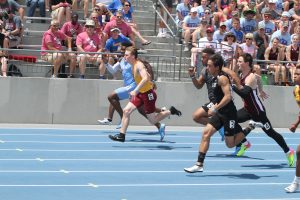 Both Centennial and Ankeny ended Thursday's action on a positive note. The Jaguars and Hawks both qualified for Saturday's final in the shuttle hurdle relay.
The Ankeny foursome of Cael Boyd, Max Griffin, Mason Thompson and Connor Niffenegger posted the fifth-fastest qualifying time of 57.90 seconds. It was the third-fastest time in school history.
"That was a season-best time," tweeted Ankeny coach Nick Nelson after the race. "It was a good meet to do it."
Centennial was right behind the Hawks with a time of 57.96. That team consisted of Jon Wong, Dylan DeAngelo, Joel Hyler and Riley Moss.
Here are the rest of Ankeny and Centennial's results from Thursday:
100–Max Smith (A), 11.37 (15th).
200–Cooper Cox (A), 22.85 (15th).
4×800–Ankeny (Connor Farrell, Jalen Elwell, Aiden McCombs, Cole Johnson), 8:16.19 (16th); Centennial (Ahren Davis, Gabe Vicker, Jayden Oshirak, Ben Lyons), 8:26.69 (20th).
High jump–James Jacavino (AC), 5-11 (14th).
Discus–Trevor Formanek (AC), 136-7 (21st).