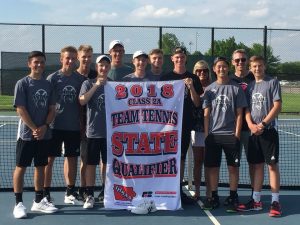 The Ankeny Centennial boys' tennis team advanced to the state team tournament with a 5-0 victory over Johnston in a Class 2A substate final on Friday.
The Jaguars (9-2) will play Waukee (9-3) in the opening round of the state tournament on Saturday. They will be looking to avenge a 7-4 loss at Waukee on May 1.
"I'm super proud of our guys that they toughed out some super close matches and won five straight singles matches," said Centennial coach Tami Lewton.
Here are the match-by-match results:
Centennial 5, Johnston 0
Singles–Blevins beat Yao, 6-1, 6-3; Marold beat Lucas, 6-4, 7-5; Lofgren beat Kreamer, 6-2, 6-4; Densmore beat Hogan, 6-1, 7-5; Petersen vs. Pullen, 5-7, 7-5, DNF; J. Unick beat Launderville, 6-4, 1-6, 7-5.