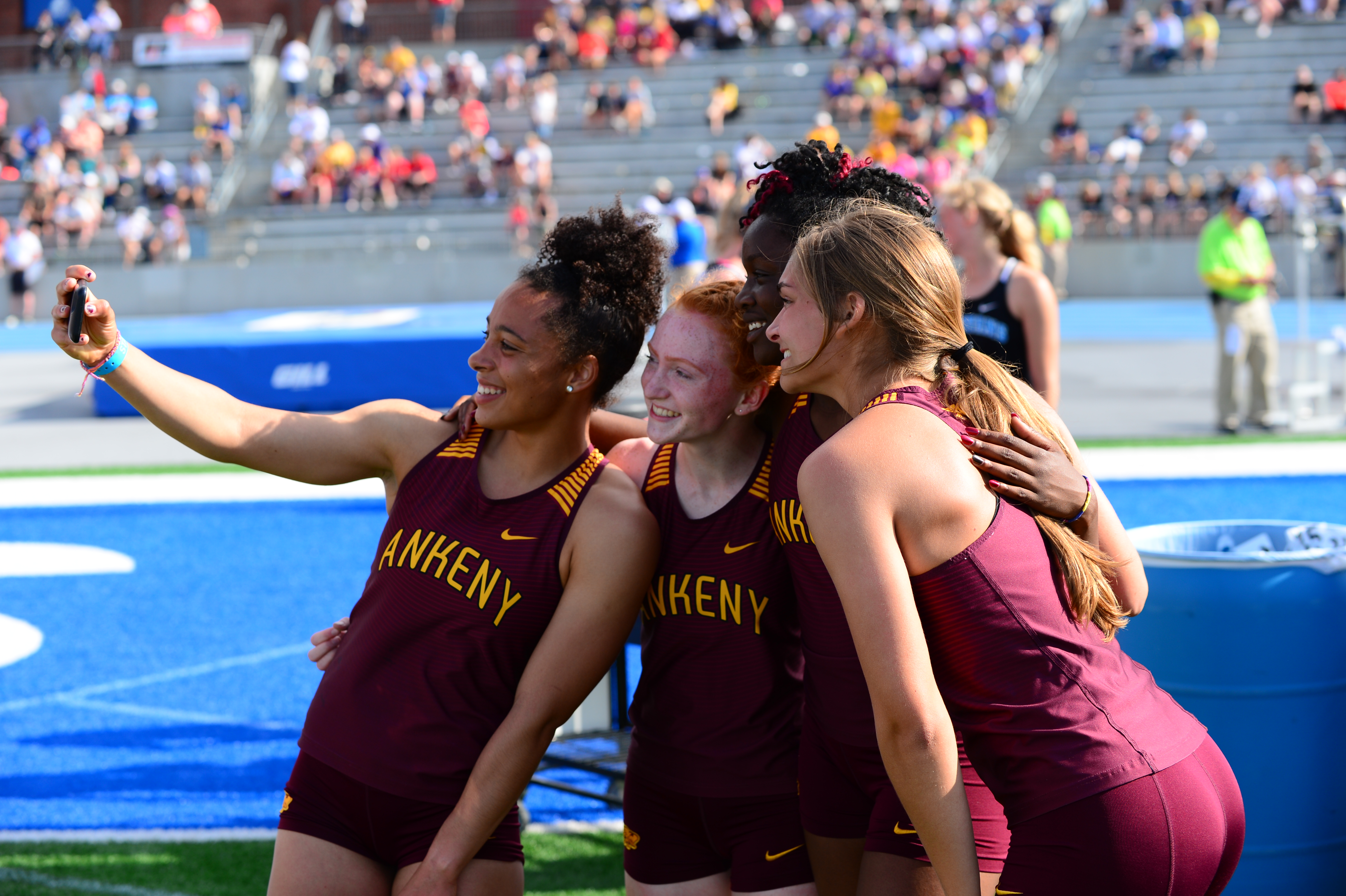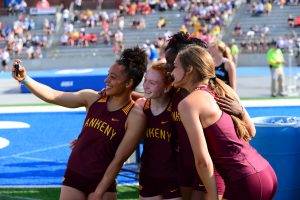 The Ankeny girls' track team had to wait longer than expected to score some points in the Class 4A state meet.
The Hawkettes entered Saturday's final in the 4×100 relay with the fastest qualifying time, but the race was delayed by nearly two hours due to a severe thunderstorm that passed through the Des Moines area.
The storm warning led to the evacuation of Drake Stadium.
"I don't think the storm delay had any effect on us," said Ankeny senior Peyton Daugherty. "If anything, I think it gave us more adrenaline while waiting and more time for the nerves to settle in so we were ready to go."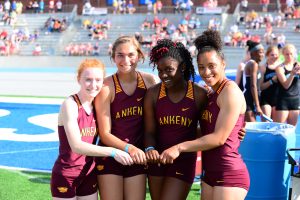 When the meet finally resumed, Ankeny raced to a third-place finish in the 4×100. The team of Eva van de Mortel, Daugherty, Mytika Mayberry and Jasmine Rumley was clocked in 48.29 seconds.
The Hawkettes had run 48.01 in Friday's preliminaries, the 10th-fastest clocking ever in Iowa.
"Our race was pretty good," Daugherty said. "We didn't run faster than prelims, but we were still .3 away and in the 48s so we're all super proud of that."
Jill Bennett anchored Linn-Mar (Marion) to the 4×100 title. The Lions won the race in 48.00, while Waukee posted a time of 48.26 to edge Ankeny for second.
Daugherty was the lone senior on the Hawkettes' relay. Rumley is a sophomore, while Mayberry and van de Mortel are freshmen.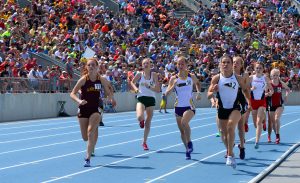 Ankeny finished in a tie for 24th place overall with six points.
"It has been a joy and privilege to coach this team," Ankeny coach Dennis Adamson tweeted after the meet. "They are young women of character, hard work, and lofty goals. They believed in themselves and never gave up. It's hard to let the seniors go."
Meghan Trimble was another senior who put on her maroon uniform Saturday for the final time. She placed 16th in the 800 in 2:23.72, which set a personal best.
The Hawkettes also placed 18th in the sprint medley relay. The foursome of van de Mortel, Daugherty, Mayberry and Sydni Wendling posted a season-best time of 1:52.09.