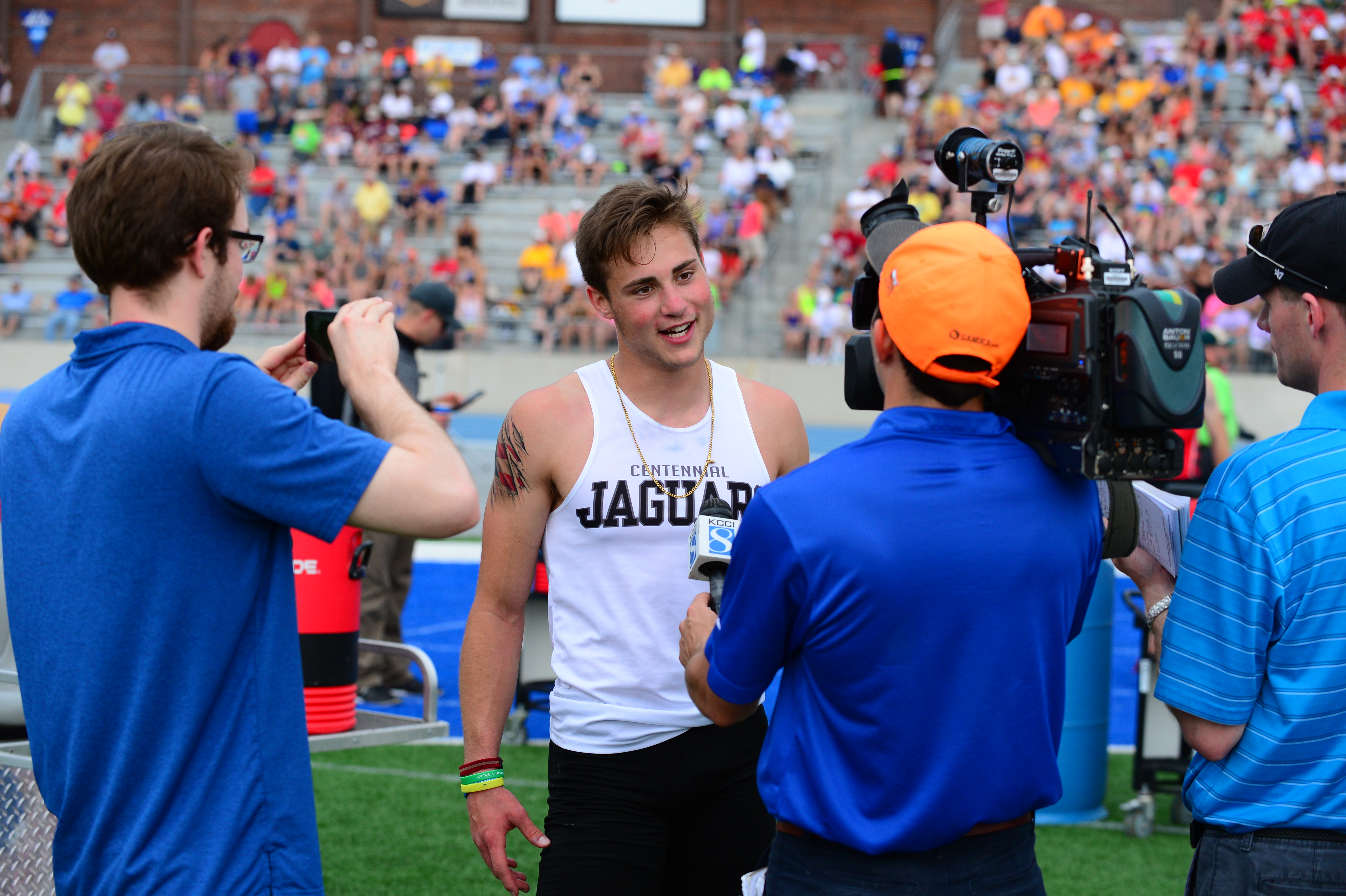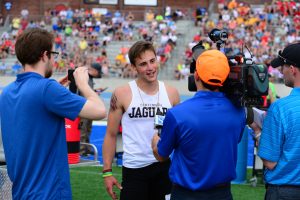 Senior Riley Moss led the Ankeny Centennial boys' track team to a fifth-place finish in the Class 4A state meet Thursday through Saturday at Drake Stadium.
Moss won an individual state title in the 110 hurdles, posting a time of 14.02 seconds. He also anchored the Jaguars' winning 4×200 relay, the runner-up 4×100 relay and the seventh-place shuttle hurdle relay.
Here is some inside info on Moss:
Congratulations on a great season. Is it hard to believe that you've ran your last race on the track?
No, honestly it's still sinking in.
You set an all-time Iowa best of 13.85 in the 110 hurdles earlier this season. To what do you attribute your dramatic improvement from last year?
Working hard and doing what my coaches have been telling me to do in practice.
Did you change something with your form, or was it just a matter of maturing and having more experience?
It was mostly maturing for sure.
You stumbled and nearly fell during the hurdles preliminaries on Friday. Do you realize that you just about gave your dad a heart attack?
Hahaha, yeah they told me after the state meet was over.
Did you feel like the 4×200 relay that won state and the 4×100 that almost won as well both had good chances to win titles going into the meet?
Yeah, we were confident that if we did our jobs, we could be in contention to win those events.
With your speed, strength and hurdling ability, it seems like you'd be a natural for the 400 hurdles as well. Have you ever tried that event?
Yeah, I did my sophomore year, and it sucked. It wasn't much fun, and I never really worked at them enough to get into them.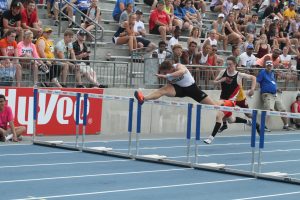 Last year, you ran on the state champion shuttle hurdle relay along with Jake Pinegar, who skipped his senior track season in order to focus on football. You obviously could have done the same thing. Why did you elect to run track this spring?
Because it's my last year of track ever. I was going to finish what I started.
You've accepted a grayshirt opportunity to play football at Iowa. When do you report to Iowa City?
I report June 9.
Will it be tough for you to sit out that first season, or do you feel like it will provide an opportunity for you to get better?
So my situation is actually a blueshirt. This means I can pay for my summer and fall semesters and then be granted my scholarship in January. This would mean since I'm paying that I can work out with the team and be on the team like everyone else.
You initially verbally committed to play for North Dakota State, but you said that Iowa was the only school that could take you away from the Bison. What is it about Iowa that attracted you to the Hawkeyes?
The culture, the coaching staff, and the fact that it's been my dream school since I was little.
Two of your Centennial teammates, Zach Kluver and Trey Winters, are also headed to Iowa. Did you ever imagine that the three of you would become teammates in college as well, especially at the Big Ten level?
Not at all, but I'm excited to see where we all end up and how we do.
I'm sure you followed the recent NFL draft. Were you surprised that former Ankeny star Joel Lanning wasn't selected?
I'm not too surprised, but the thing about Joel is that he's a kid where if he gets into a system, he will buy in and compete for anything and everything. That's tough to measure at the combine.