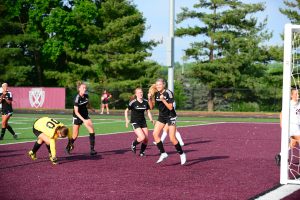 Most soccer players use their foot or their head to put the ball into the net.
Sometimes, it's necessary to rely on other body parts.
Marisa Smith used her thigh to score the game-winning goal Monday as top-ranked Ankeny Centennial posted a 1-0 victory at No. 7 Dowling Catholic in a non-conference contest.
"I saw Meg (Gray) taking endline, and we have been working on finishing the balls the outside forwards slot into the box, so I tried to position myself where I could receive the ball and ended thighing it in," Smith said.
Smith's goal was her third of the season and her second in the last two games. It came midway through the second half and broke up a scoreless tie.
The Jaguars are now 14-2 overall, including 9-0 in May. They have won six games by a single goal during their winning streak.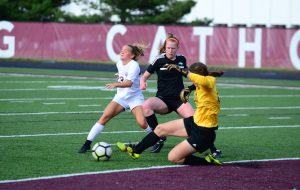 "(Dowling) didn't have a shot on goal, so our defense did a really nice job," said Centennial coach Chris Allen. "We've just got to do a better job of capitalizing in front of the 18 and inside the 18. We've just got to get hungry for goals and really just go all out to take advantage of every opportunity that we have."
The Maroons lost for the third time in four games, dropping to 10-4 after a 9-1 start. The shutout was Centennial's ninth of the season.
The Jaguars' back line boasts four Division I recruits in Olivia Brown, Tori Ubben, Olivia Wee and Allie Wyckoff. It might be the state's best defensive unit.
"We're very confident in those girls, but even the strongest of back lines can make a mistake or get a bad hop," Allen said. "We don't want to solely rely on that. We definitely need our midfielders to do some work to help relieve some of that pressure, and we need our attacking players to keep the ball and of course we need to be able to make the most of the opportunities that we generate."
Centennial will close out the regular season on Thursday with a game at No. 11 Johnston. The Jaguars will host Des Moines East in a Class 5A regional semifinal on May 30.
"I think it's essential for us to be getting to our best since this is the last regular-season week and postseason is so close and we know how much every other team wants to win a state championship, too," Smith said.