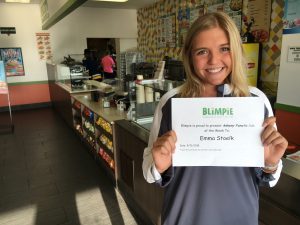 Emma Stoelk of the Ankeny Centennial girls' golf team is the Ankeny Fanatic Sub of the Week sponsored by Blimpie.
Stoelk has rotated between the No. 6 varsity spot and the No. 1 JV position for the Jaguars this season. She shot a personal-best 90 in the Johnston Invitational on April 30 at Jester Park.
Centennial won a Class 4A regional meet on Monday at Veenker Golf Course in Ames. The Jaguars earned their fourth consecutive trip to the state meet, which will be held on May 29-30 at Elmwood Country Club in Marshalltown.