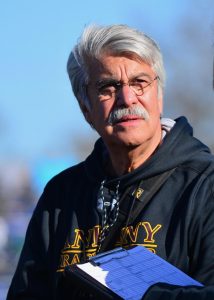 Dennis Adamson has spent the majority of his life coaching girls' track.
He finally decided to let somebody else do it.
The longtime head coach of the Ankeny girls' program informed his athletes that he was retiring after they returned from the state meet on Saturday at Drake Stadium, where the Hawkettes tied for 24th place in Class 4A.
"It was a hard decision, but I wanted to retire when I still loved what I was doing but felt it was time for a new head coach to take the helm of a great sport and team of fantastic girls with a lot of character," Adamson said. "I will always be their biggest fan, and I hope my many years as a track coach has been a positive experience to all my athletes."
Adamson coached the sport for 44 years, including the last 38 at Ankeny. He has been the Hawkettes' head coach since 1991.
Adamson said the friendships that he's developed over the years have been just as important as the wins and losses.
"All my athletes have been a positive influence on me as a teacher and coach," he said. "I've treasured my time with them."
During his career at Ankeny, Adamson guided the Hawkettes to a state indoor co-championship and two state outdoor runner-up finishes. His teams won six conference titles and earned 10 top-10 finishes at the state meet.
Adamson was named the Regional Coach of the Year five times by the Iowa Association of Track Coaches. He was also selected the Cross Country Assistant Coach of the Year.
Adamson coached several individual and relay state champions at Ankeny, including Laura (Aschoff) Jumper. She won four events at the 1996 state meet, becoming only the seventh athlete to accomplish the feat.
Jumper led the Hawkettes to a second-place finish in Class 3A. They finished with 62 points, the most ever for a state runner-up at the time.
"What I remember most about my four years under coach Adamson is how supportive he was and how giving he was," Jumper said. "He put his student-athletes first, and we all knew that. I remember days during the offseason or weekends when he would be there–sometimes you didn't even have to ask."
Jumper is a member of the Iowa Girls' High School Athletic Union Track Hall of Fame.
"I credit his support and positive attitude for a lot of my success in high school," Jumper said of Adamson. "I had a lot of highs during those years, but I remember the lows and how he was one of the first people to lift me up and build that confidence back. His smile and positive attitude were two of my favorite things about high school track, and I truly enjoyed the time I had under him."
Adamson said he enjoyed coaching all of his team members, and not just the elite athletes like Jumper.
"The highlights for me were those moments when my athletes rose to the occasion and achieved a state-meet finish that they had dreamed about but never thought they would achieve," he said. "There are always expected finishes, but these surprises are always cherished."