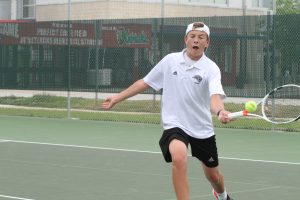 The Ankeny Centennial doubles team of Sam Marold and Ryan Lofgren faced the prospect of elimination during the boys' state tennis tournament on Friday at Cedar Rapids.
Clearly, it was "Jammy Time."
That's how Marold described the duo's improbable comeback from a 0-6, 2-5 deficit to beat Pleasant Valley's Muneeb Nadeem and Nathan Wong in a Class 2A second-round consolation match at the Veterans Memorial Tennis Center. The win assured the Jaguars' tandem of a top-eight finish.
"It feels awesome to be a placewinner," Marold said. "Obviously, our original goal was to qualify, and now it's just one match at a time to do the best we can."
Marold and Lofgren, who improved their record to 13-6, will play two more matches on Saturday following their stunning rally. After losing 11 of the first 13 games against Nadeem and Wong, the Centennial duo battled back to win the next five games to tie the match, then took the ensuing super-tiebreaker to post a 0-6, 7-5, 1-0 (6) victory.
"We saved three match points and somehow came back to win," Marold said. "Once we dug that big of a hole, it just took a lot of mental toughness, but also we really turned up just in the nick of time…'Jammy Time'."
Marold, a senior, and Lofgren, a sophomore, opened the tournament earlier on Friday with a 6-3, 6-1 victory over Johnston's Jack Lucas and Ben Kreamer. They won a match at the state tournament, something that three previous Centennial doubles state qualifiers had failed to accomplish.
"It feels great to get that first doubles win in school history," Lofgren said.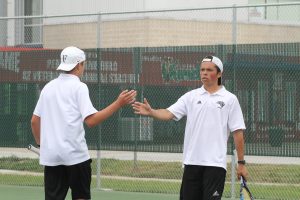 The Centennial duo had defeated Lucas and Kreamer by the same 6-3, 6-1 margin earlier this season, but on Friday they got off to a slow start. The Dragons jumped out to a 3-1 lead in the opening set.
"We were nervous," Lofgren said. "I think that showed on the court at the beginning of the first set."
Marold and Lofgren then won 11 of the next 12 games to close out the match.
"We just had to try to be aggressive and play our game," Marold said. "We knew the win was doable."
The Jaguars then dropped a 6-1, 6-1 decision in the quarterfinals to Ben Hediger and Luke VanDonslear of Linn-Mar (Marion), the No. 2 seed behind Cedar Rapids Washington's Rami Scheetz and Ty Sherman.
"Linn-Mar was the best team we faced this year," Marold said. "They are a top-two team in the state."
Now, thanks to their incredible comeback in the next match, Marold and Lofgren will get to play Linn-Mar's second doubles team. They will face Jack Gertsen and Lucas Huffman in a consolation semifinal on Saturday.