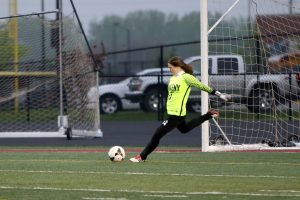 Sophomore goalkeeper Brenny Frederick has helped the Ankeny girls' soccer team to a 15-2 record and a No. 2 ranking in Class 3A.
Frederick has played in 11 games, including nine starts, while sharing the goalkeeping duties with Laina Routson and Sidney Truman. She has made 33 saves while allowing seven goals.
Here is some inside info on Frederick:
You have an interesting first name. Were you named after someone?
Brenny is short for Brennen. I have several different nicknames but my mom calls me Brenn, my dad calls me Brenny. My mom told me we had to decide on a name to use before kindergarten, and they left it up to me. I chose Brenny.
Congratulations on a great season thus far. What has been the highlight for you?
Thank you. The highlight of my season has been the Waukee game (on May 8, which resulted in a 3-2 shootout victory for the Hawkettes). As a team I felt like we responded to adversity very well. I was really calm going into PKs, and the overwhelming support I received from my team is what really set it apart for me.
Have you always been a goalkeeper? What do you like about the position?
I have always been a goalkeeper. I really enjoy the subtle as well as the big impacts I can have on the game. Being vocal is one example, not just being informative, but being positive as well can really sway how our team is playing. I enjoy "high stress" situations as well, PKs and 1v1's are amazing–they make me feel like I'm doing my part for the team.
Your team has a strong back line led by senior Riley Whitaker, who will play for Iowa next year. How much do those girls help to make your job easier?
There is quite a bit of pressure on me, but the entire back line takes some of it off of me. We have some extremely dependable players back there. There is so much trust–they make games physically and mentally easier for me.
Your team lost to Ankeny Centennial in a shootout earlier this month before bouncing back a week later to win the shootout at Waukee. Do you like the pressure of being in a shootout?
I don't mind PKs at all; there is virtually no pressure on me. It's always 50/50 and I'm very confident in my ability, knowing the team will get the job done on the other end of it is also very reassuring.
I don't want you to give away any of your secrets, but is there a way for you to read which way the shooter is going to kick the ball on a PK?
I do have a few things I look for when they are taking a PK. I'm not going to share any of those things, but it also depends on the goalkeeper and what they are most confident looking at. It's all personal preference.
Your team will open regional play on Wednesday against Indianola. Do you know much about the Indians?
Personally, I don't. But it's easier going into a game willing and ready to give 100 percent than expecting less and being unprepared.
If your team can make it to the state tournament, you might get a chance to play the only opponents that defeated you–defending Class 3A champion Ames and Centennial. How badly would you like another shot at those teams?
We know those games could have gone either way, and the outcomes could be very different if we see either one of them later on. But whatever happens, we will be ready for it.
It's possible, based on the current rankings, that Ankeny and Centennial could potentially meet in the championship game. If that happens, what would that say about the strength of the girls' soccer programs in this community?
It's definitely a possibility we could meet Centennial again. Our town definitely has a myriad of talent on both sides based off of college commits alone. A big part of it is that we mostly come from the same club (Iowa Rush), and as a result of that we all gel really well on both sides. We are very strong on both sides.
Would you like to play soccer in college? Are you being looked at by some schools?
I'm still deciding if I'd like to play soccer in college. There are a lot of things to consider right now, and I'm still trying to decide what I would like to major in. If soccer ends up being a part of my college experience, that would be great.
Do you play any other sports, or have you in the past?
I don't play any other sports, and unless you count peewee sports, soccer has basically been it since I was four.