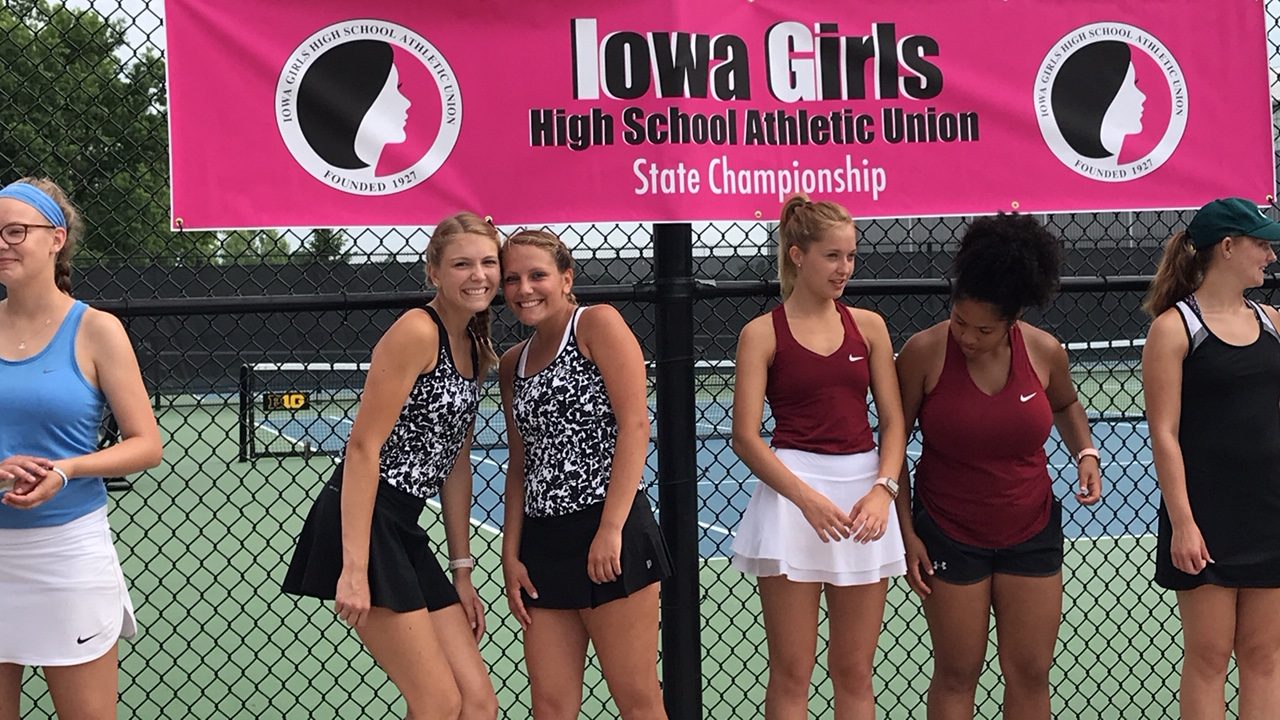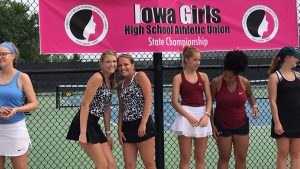 Ankeny Centennial senior Alyssa Lewton didn't mind missing her commencement ceremony on Wednesday night.
She was too busy playing tennis in Iowa City.
Lewton and junior Alli Gustafson teamed up to win a pair of three-set consolation matches in the girls' Class 2A state tennis tournament at the Hawkeye Tennis Center. They rallied for a 3-6, 6-4, 1-0 (5) victory over Valley's Paeton Morrow and Sarah Lagomarcino to assure themselves of a top-eight finish in the doubles competition.
Lewton becomes a state placewinner for the second straight season. She finished eighth a year ago while playing with Maddie Volk.
"I think I have the same feeling, but it's just a little more emotional because I'm a senior and it feels a little more real that this is the last time I'm going to do this," Lewton said. "However, it was for sure worth missing my commencement. (Coach Emily) Phomm(achack) actually made me a fake diploma and I put my cap and gown and cords on and I just cried and was like, 'This is a much more memorable commencement.'"
Lewton and Gustafson are now 14-7 on the season. They will meet Roshni Penmatcha and Kayla Nutt of Pleasant Valley in a consolation semifinal on Thursday morning.
"We're so pumped," said Phommachack, who has already announced her resignation, effective at the end of the tournament. "Alyssa missed her own commencement, but it was totally worth it. They played outstanding–all heart in this last match today. They wanted it more and they took it. I couldn't be more proud of them."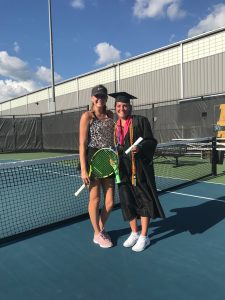 The Centennial duo opened the tournament with a 6-2, 6-1 loss to top-seeded Emma and Audrey Koch of Iowa City West. Emma Koch played on last year's state championship doubles team.
"The first game of the first match I was a little nervous, but as soon as we started playing, all the nerves went away," Gustafson said. "After losing the first match, I knew we couldn't lose again if we wanted to keep going, but that it was definitely still possible to place."
Lewton said she gained confidence from the opening match, despite the lopsided result.
"We played a tough match and the match score doesn't really represent how close the match truly was," she said. "Alli and I talked about how if we can hang with the No. 1 seed, we can hang with anyone and that was a really cool feeling."
Lewton and Gustafson bounced back with a 6-2, 3-6, 1-0 (7) victory over Katie Carver and Emily DeDoncker of Urbandale in a first-round consolation match.
"They played well–smart–and battled to the end," Phommachack said. "They made the decision they weren't done playing."
The Jaguars then defeated the Valley tandem in similar fashion to keep their season alive.
"During the tiebreakers in both matches, we just kept each other pumped up, and then we focused on playing smart, which was the key to winning," Gustafson said.