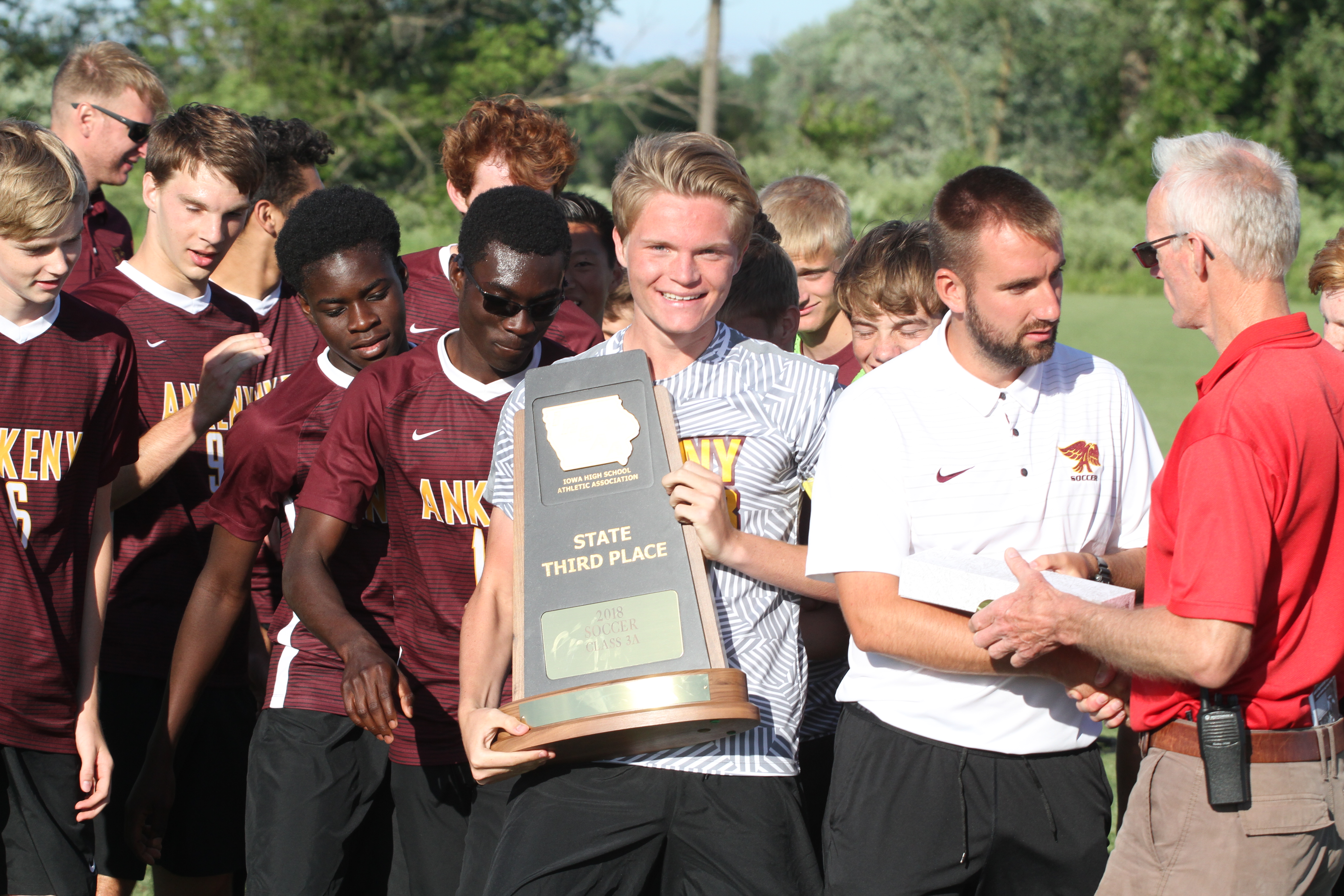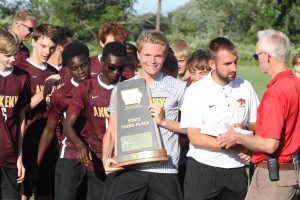 Perhaps nobody had a bigger smile on his face Saturday than Dayne Kajewski.
The injured senior on the Ankeny boys' soccer team carried the Class 3A third-place trophy after the sixth-ranked Hawks outlasted No. 5 Iowa City West, 4-3, in double overtime to win the consolation final at Cownie Soccer Complex in Des Moines.
"I think I've been the loudest one on the sidelines. I had to be told to sit down today," said Kajewski, who has missed several games due to a knee injury. "But for me, seeing them be able to do this, I'm really proud of them. We win as a team, we lose as a team. (On Friday) we weren't ready in that second half, but today we came out–and we were probably missing six guys–and we went at them, fully prepared to go in and get that third-place trophy."
Ankeny finished with a 17-5 record in its first season under coach Jordan Burns. The Hawks bounced back from Friday's overtime loss to Bettendorf in the semifinals to defeat Iowa City West, the defending state champion, for the second time this season.
"The boys showed great character today," said Burns. "It was a tough loss to take yesterday, and we just wanted to have fun with this game. The boys did well to keep their cool, and we finished off the season with third place, which after yesterday feels pretty good."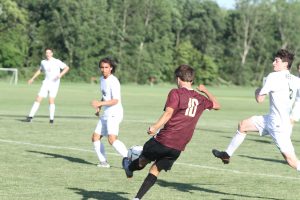 Ankeny's Kolby Raineri scored a goal in the 75th minute to force overtime. The junior then ended the game with another blast into the net, this one from about 30 yards out in the 95th minute.
"I didn't want to go into PK's," said Raineri. "I just thought I'll hit it and see what happens, and it went in."
Peter Gaspari was one of several seniors who played his final game for the Hawks. He earned his 16th assist of the season on Raineri's golden goal, which allowed him to set the school record.
"You can only win your last game two ways," said Gaspari, referring to the winners of the championship and consolation games. "I'm glad that we did it one way."
Spencer Anderson and the other seniors took turns holding the trophy after the game. The scene was starkly different from 24 hours earlier, when the Hawks were left devastated by their loss to Bettendorf.
"We've all put our blood, sweat and tears into this all year, so I think that was really hard when that fourth goal hit the post and went in," Anderson said of the semifinal defeat. "It was kind of a lucky shot when we dominated the whole game, but that's the way it goes. We came back today, and it was our last game together. We wanted to make it a good one."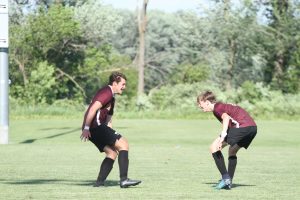 Defender Caleb Davis, another senior, said the Hawks regrouped on their way to the game.
"It was tough at the beginning, but then on the bus ride here we listened to different kinds of music and that brought our spirits up," Davis said. "We just came in with the mindset that, 'Sure, we lost yesterday, but we're going to come out here and do the best that we can.' We didn't want to go out with a loss."
Saturday's game began with a nice moment. Kajewski and fellow senior Hunter Wiebel, who suffered a knee injury against Bettendorf, started for the Hawks and were then immediately replaced.
"For me, that meant everything," Kajewski said. "I've had trouble with my knee all season. Getting out there was my final hurrah with soccer, so it meant a lot to finish it off."
Ankeny never led during regulation. The Hawks fell behind, 1-0, when Iowa City West goalkeeper Zach Albright converted a penalty kick in the 14th minute.
After Ankeny tied the score on a goal by Josh Aboagye in the 62nd minute, the Trojans (18-5) regained the lead about 2 minutes later. Taka Oya found the net to give Iowa City West a 2-1 advantage.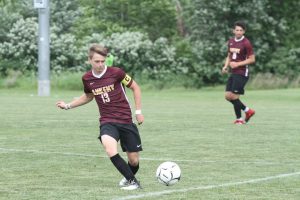 The Hawks scored another equalizer in the 72nd minute, when Davis cleaned up a corner kick that was deflected.
"It felt so good because that's the first time I've scored in my whole high school career," Davis said. "It just came right to me, and I was cool, calm and collected and just took a shot."
Iowa City West again responded right away, taking a 3-2 lead on a goal by Matthew McDonnell just 20 seconds later. But the Hawks simply refused to go away.
Raineri scored the first of his two goals about 3 minutes later, setting the stage for his game-winner in double overtime. He was later named to the all-tournament team along with Gaspari.
"Our goal was to get a final 'W' for the seniors, and we did it," Raineri said.