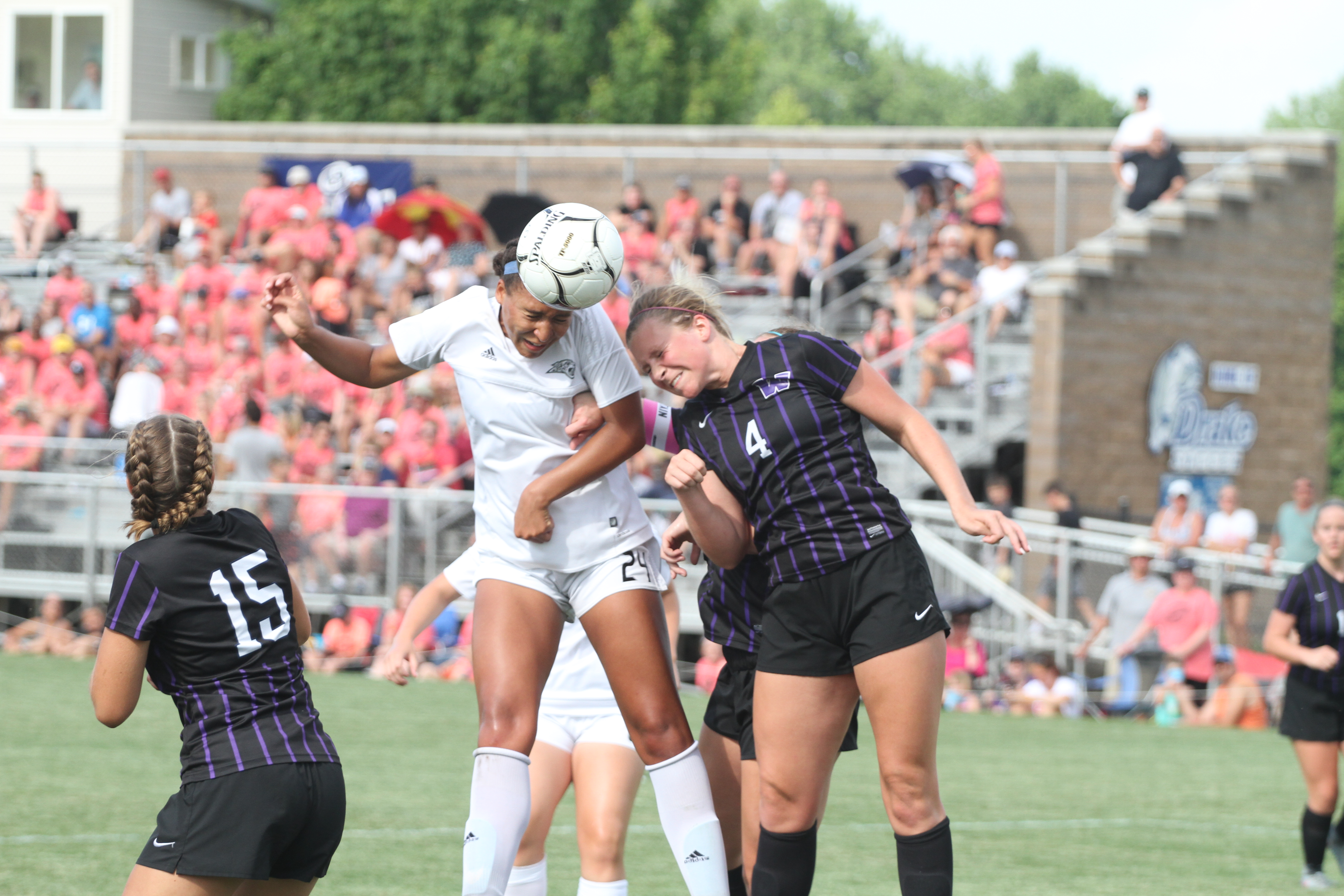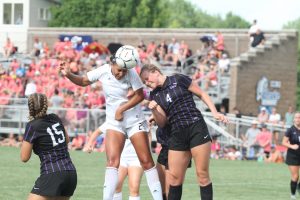 At the beginning of the season, sophomore Miranda Wood was playing on Ankeny Centennial's junior varsity girls' soccer team.
On Saturday, she'll be playing for a state championship against her crosstown rival.
The former goalkeeper scored the go-ahead goal in the 50th minute and top-ranked Centennial went on to defeat No. 4 Waukee, 2-0, in the Class 3A semifinals on Friday at Cownie Soccer Complex. It was the fifth goal of the season for Wood, who has become a key contributor for the Jaguars in the midfield.
"I honestly thought I'd just be a little person on the sideline cheering on the team," said Wood. "But then I got out there and the goals just kept coming, and I thought I could do it in the end."
Centennial (19-2) avenged a 1-0 loss to Waukee in its season opener on April 13. The Jaguars will play No. 2 Ankeny (19-2) in Saturday's title game at 3 p.m.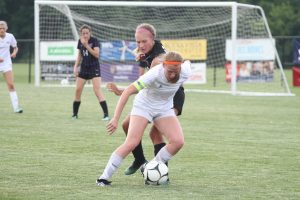 "It feels awesome. We're really excited," said Centennial senior Kenzie Geiger. "This is definitely a special team this year, and this is obviously the goal for any team. But we're super happy that we made it to the final."
Centennial will try to win its second title in three years. The Jaguars won the Class 3A crown in 2016 before falling to Valley in last year's semifinals.
"That was a tough loss to Valley last year, but this year we have a lot of confidence," said Centennial defender Olivia Brown, who scored the Jaguars' other goal on Friday. "We're excited to be going to the championship."
After a scoreless first half, Centennial finally broke the ice early in the second half. Geiger crossed the ball into the box, and Wood cleaned up after a deflection.
"Kenzie was on the outside, and she's just a bulldozer," Wood said. "I'm giving 90 percent of the credit to her. She crossed it in, I got a toe on it, and it was great."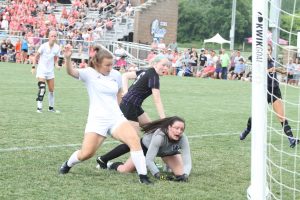 It was Geiger's team-leading 11th assist of the season.
"A lot of players have definitely had to step up due to injuries, and that helped them gain confidence for a game like this," Geiger said. "That was an awesome finish by Miranda, and I'm so happy she was there. She's a great player and a great person."
Centennial coach Chris Allen said the Jaguars tried to use diagonal passes in an effort to loosen up Waukee's defense.
"What we noticed is that they really make the field small–kind of a small possession grid–and make you not realize that you have spaces around the field," he said. "So we started hitting those diagonal balls and what happens in that moment is that they start flattening out their backline and it opens up the middle for us, and it's just a matter of time before you generate some corners. And if you get a goal it might not be a pretty goal, but that's ok. The first one was just scrap it in, but I was so happy for Miranda. She loves scoring goals, and to score one at state, that's a memory she'll always be able to hold onto."
About 5 minutes later, the Jaguars added an insurance goal off a corner kick. Even a Waukee fan would have called this one a beautiful goal.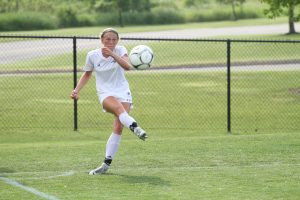 Olivia Wee booted the ball into the box, where Brown outdueled another Olivia–Waukee freshman Olivia Lovell–for position in front of the goal. Brown then headed the ball into the net for her third goal of the tournament.
"I just went in full force, and I knew in my mind that I was going to get this header and it was going to seal the deal," Brown said. "It's basically you against one player, and you have to have the mentality that you're going to beat (her). You're the one who is going to end up getting the ball."
Brown has now scored six goals this season, most of them on headers.
"I don't know that many kids are as hungry for the ball in the air as she is," Allen said. "She just explodes through it when she finds it."
Waukee finished the season at 14-5. The Warriors also lost to Centennial in the 2016 semifinals, a fact that didn't go unnoticed by Geiger.
"We were kind of talking about that (similarity)," she said. "We won our regional game 4-0 two years ago, just like we did this year, and we won our first round at state 7-0, just like this year. And then we played Waukee in the semifinals, so we're a little superstitious on this team. Obviously, every tournament is different, but I think we have what it takes (to win it all)."