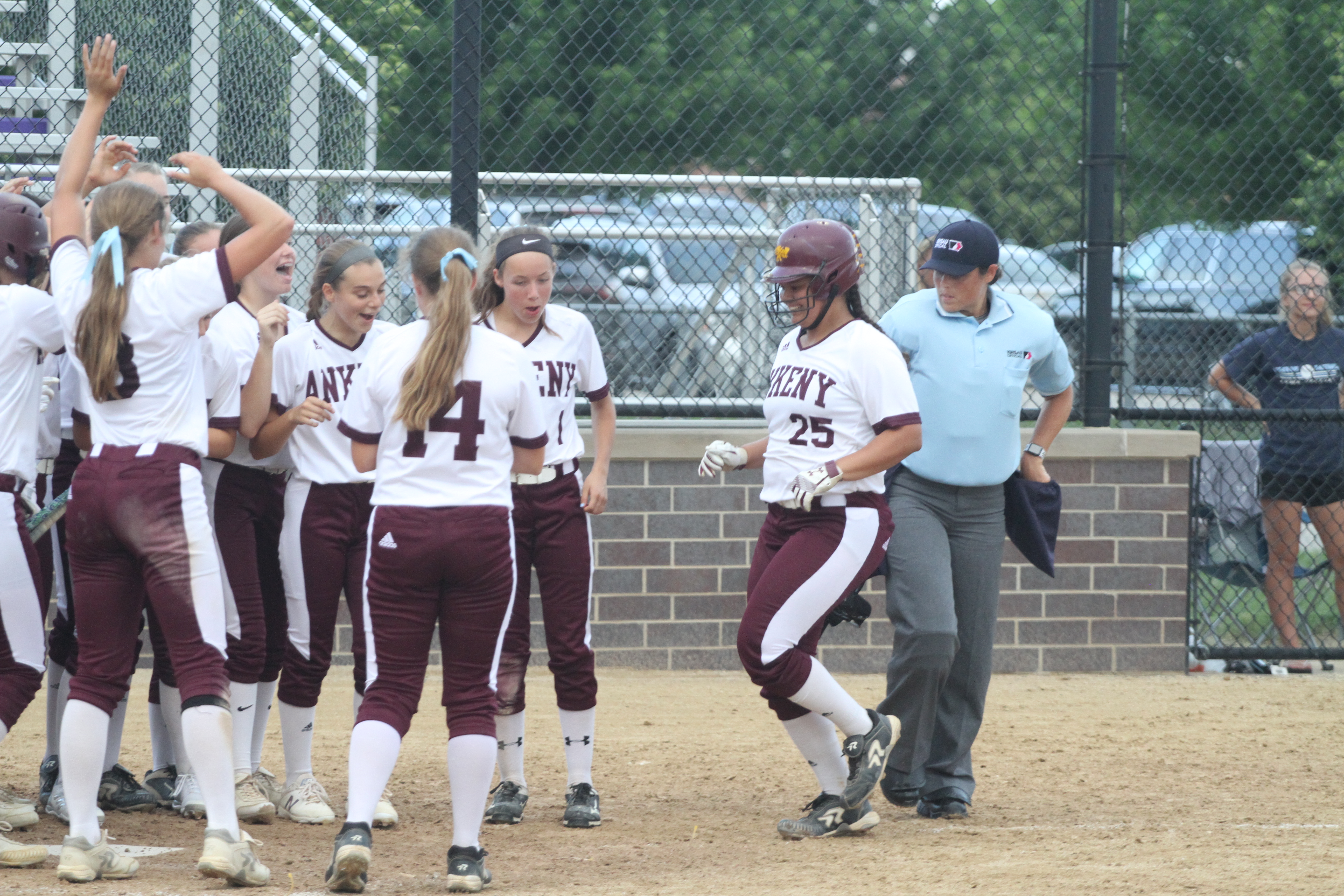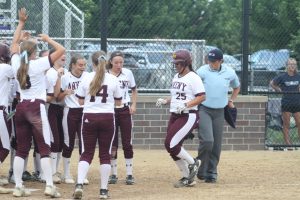 Jasmine Rumley had no idea that the Ankeny softball team had just defeated Waukee for the first time since 2014.
"Holy cow, that's awesome," said Rumley.
The sophomore outfielder went 3-for-4 with a home run, a triple and four RBIs to lead the Hawkettes to a 9-5 victory at fourth-ranked Waukee on Monday. The Warriors had won 12 straight games against Ankeny, five of them by 10 or more runs.
Senior shortstop Peyton Daugherty went 2-for-4, scored four runs and drove in another. She was an eighth grader on the last Ankeny team to defeat Waukee.
"It feels really good to beat them," Daugherty said. "Everyone was just really excited tonight. Everyone just kind of had a fire in them."
Kennedy Thomas (2-0) was the winning pitcher, allowing two earned runs on six hits. She also went 2-for-4 with a home run and two RBIs.
"She's just a model of consistency and competitiveness on the mound," Ankeny coach Dave Bingham said of Thomas. "With her attitude, she brings a real toughness to the team."
The win allowed Ankeny to move into sole possession of second place in the CIML Central Conference behind No. 3 Valley. The Hawkettes are now 5-2 in the league and 10-4 overall, while Waukee's records dropped to 3-2 and 10-3.
The second game of Monday's twinbill was tied at 2-2 in the fourth inning when it was suspended due to rain. It will likely be completed on June 27, when the two teams are scheduled to play another doubleheader at Ankeny.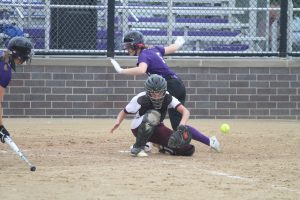 The Hawkettes pounded out 11 hits off Waukee pitcher Molly Jacobson. Regan Smith doubled in the fourth inning to ignite a four-run outburst that increased Ankeny's lead to 8-0.
"We have the talent," Bingham said. "We can put some runs on the board, and tonight we were threatening in every inning. We have the ability to do that against some really good teams."
Smith eventually scored on a two-out infield single by Daugherty. Rumley followed with an RBI triple to the gap in right-center field and came home on a throwing error.
"It was actually a good day for hitting," Rumley said. "I've had a few rough ones, but this is a good one."
Thomas then capped off the big inning with a homer to left-center. It was her fifth of the season.
Rumley earlier hit her second homer of the year. She also homered on Friday in a win over No. 13 Burlington.
"We've got home run power across the board," Bingham said. "Jas hit nine last year, and now she's starting to find her swing."
Ankeny committed two errors that led to three unearned runs, but the Hawkettes also made some nice defensive plays. Second baseman Malea Daugherty turned an unassisted double play in the seventh inning to help seal the win.
Peyton Daugherty then caught a pop fly to end the game.
"We were ready to go," Daugherty said. "We've got 10 games this week and 10 games next week, and this was a really good start to the week."
Ankeny is seeking its first trip to the state tournament since 2015. The Hawkettes may need to beat a team like Waukee in order to qualify for state.
"We have had some struggles with some of the bluebloods since we went to the split," Bingham said. "But I think it's over for this group–as good as we are. We don't fear anyone, and I think we'll break a lot of streaks this year."
The Hawkettes will try to end another losing streak on Wednesday when Valley travels to Ankeny for a doubleheader. The Tigers have won the last 12 games in the series, a streak that began in 2013.
"When we are all on and working together and sharing the hits, we can definitely beat anybody," Daugherty said.
A strong mental approach will be crucial for the Hawkettes.
"I believe we can (beat these traditional powers)," Rumley said. "We just have to believe it."