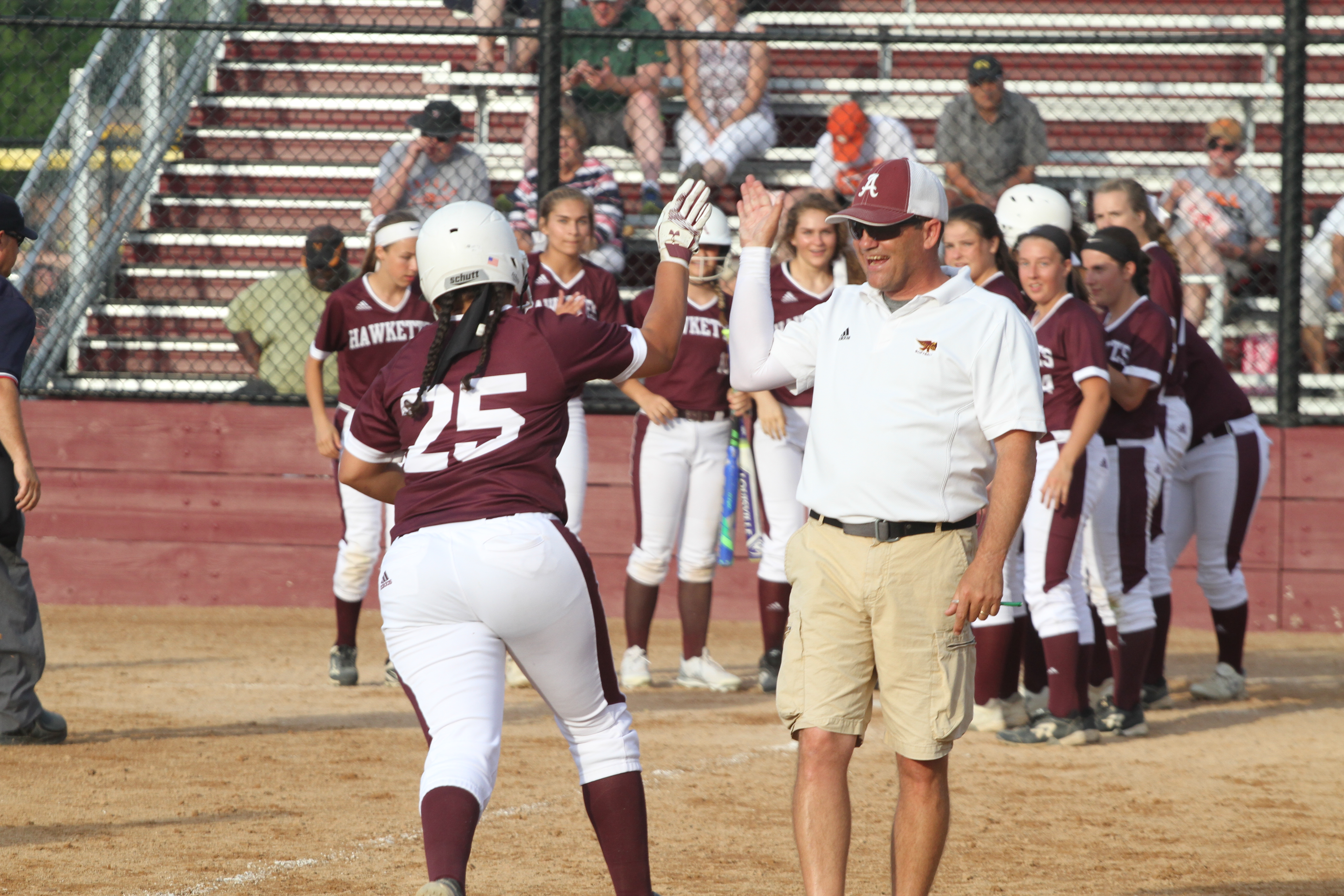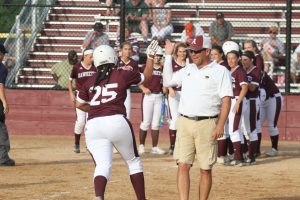 Whatever Kennedy Thomas is doing at the plate, it appears to be working.
Thomas blasted two home runs in the first game of a doubleheader against third-ranked Valley on Wednesday, igniting the Ankeny softball team to a rare sweep of the visiting Tigers. The Hawkettes posted wins of 5-2 and 6-4 to move into sole possession of first place in the CIML Central Conference.
"I just think I go up there and don't think," Thomas said. "When I don't think, I have good at-bats and I hit home runs, I guess."
Jasmine Rumley also homered in the opener as Ankeny ended a 12-game losing skid to Valley that dates back to 2013. Just two nights earlier, the Hawkettes ended a similar losing streak to No. 4 Waukee.
"I think it's important for the girls to realize how talented they are," said Ankeny coach Dave Bingham. "We can win in a lot of different ways, but I think we had a seminal moment for the program in that first game. Jas really smoked one–it was a bomb–and then the next pitch Kennedy hits one out. It was like our kids were saying, 'We're here and we're not going anywhere.' That comes with a lot of hard work and a lot of trust in each other."
The sweep improved Ankeny to 7-2 in the conference and 12-4 overall. The Tigers' records dropped to 5-3 and 11-7.
After Valley scored a run in the third inning to tie the first game at 1-1, the Hawkettes answered with three runs in the bottom of the frame. Rumley hit a two-run blast for her third homer in three games, then Thomas followed with another roundtripper.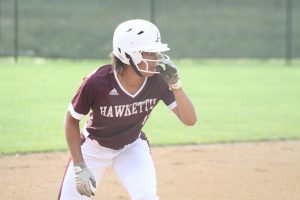 "It's fun to hit in front of Kennedy," Rumley said. "We're like two peas in a pod."
Valley closed the gap to 4-2 in the sixth inning on an RBI single by Jessica OIander. But Ankeny pitcher Paige Jacobsen, who scattered 10 hits, was hardly worried.
"It gives me a lot of confidence just knowing that my team has my back," said Jacobsen. "Even if I give up a hard hit, they'll get the out for me."
In the bottom of the inning, the Hawkettes needed only one pitch to get the run back. Thomas hit a drive off Valley pitcher Claire Stalzer that landed somewhere between Ankeny and Polk City.
"I've just kind of been locked in and looking for my pitches," Thomas said. "That's helped me a lot."
It was Thomas' seventh homer of the season. She had four home runs as a junior.
"KT's always had that ability," Bingham said. "When she's on a streak, she's very dangerous. And she can hit it out to all fields."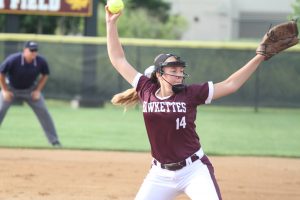 Rumley knows what it's like to be on a home run-hitting tear. She hit nine homers a year ago in an injury-shortened season.
"As many home runs as she's hit this year, it's amazing," Rumley said of Thomas' power surge.
Valley got a runner on base in the seventh inning before Jacobsen caught Maggie House looking at a third strike to end the game. The junior righthander raised her record to 7-2 on the season.
Alex Honnold, the Tigers' leadoff batter, went 0-for-4 against Jacobsen. She was hitting .673 entering the game.
"I think Paige had them mesmerized," Bingham said. "I don't think Honnold had a hit all night, and she's one of the best players in the state."
Rumley also had a double and drove in three runs. Peyton Daugherty went 2-for-3, stole two bases and scored two runs.
"I think we can beat any team in the state at this point," Jacobsen said. "We're just playing so well this year."
In the nightcap, Ankeny built a 6-0 lead before Valley scored four unearned runs in the seventh inning. But Shelbie Chambers (2-1) held on for the win, finishing with a five-hitter.
"We finally put a doubleheader together," Bingham said. "It's something we've been striving to do for awhile. I would have liked to finish the second game 6-0, but I'll take the sweep."
Marina Carter went 3-for-3 with one RBI and two runs scored for the Hawkettes. Rumley went 2-for-4 with two doubles and a pair of RBIs.
Malea Daugherty went 2-for-3 with a double, while Zoe Baker drove in two runs.
"It feels amazing just playing these good teams and beating them for the first time in, like, four years. It's an amazing feeling," Thomas said. "We've always belonged (with these teams). We just decided to show it this year."
The Hawkettes are now in position to win their first conference title since 2012, when they also went on to capture the Class 5A state championship.
"I think we're focusing game to game more than we are on the overall season," Jacobsen said. "But it'd be nice to win (the conference)."