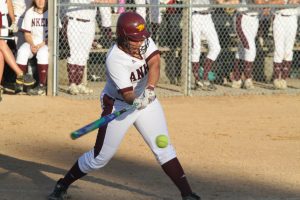 Senior first baseman and pitcher Kennedy Thomas has helped the Ankeny softball team to a 17-5 record and a No. 11 ranking in Class 5A.
Thomas is batting .423 with eight home runs, six doubles and 32 RBIs. On the mound, she has compiled a 4-1 mark with a 3.42 ERA.
Here is some inside info on Thomas:
Congratulations on a great season thus far. What has been the biggest highlight for you?
The biggest highlight so far has been this last week. We beat Waukee and swept Valley after losing to them for for years as well as beating the top-ranked team in the state, Cedar Rapids Kennedy, at the Fort Dodge tournament.
You've already hit eight home runs, doubling your total from all of last season. To what do you attribute your surge in power?
I'm not really sure–my teammates have been telling me that I have been using my legs a lot more this year. That was one of the main things I focused on during the offseason.
Which of your home runs this season do you think you hit the farthest?
My team and I think that the one I hit the farthest was at home against Valley, but the ones into the wind at Southeast Polk and in the kiddie pool at Ballard had to be a close second.
You have made eight appearances on the mound, including four starts. How many different pitches do you throw?
I throw about five pitches and it depends on the batter, team and coaches to determine which pitches I throw.
If there was a way for you to pitch to yourself, do you think you could get an out?
I'm not sure. I think I am a better hitter than pitcher and I don't throw the pitch I have the most trouble hitting. So, I don't think I would strike myself out, but I guess it depends if I hit the ball into a gap or straight to the defense.
You mentioned the wins against Waukee and Valley, two teams that have dominated Ankeny in recent seasons. What did those wins do for your team's confidence?
Those wins have boosted our confidence a lot. We knew we could hang in there with both teams, but winning those games made it even better since we broke those losing streaks (to those teams). It confirms we are a good team and can play and beat anybody in the state.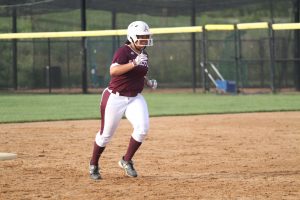 You played on the Ankeny team that placed seventh in Class 5A in the 2015 state tournament. How do you think this year's team compares to that one?
There are some similarities and some differences. In 2015, it was a young team but could lock things down defensively with the best pitcher in the state and all-state shortstop and outfielder. This year we are stronger offensively, older, and have depth. We hope to do just as good or even better this year in the postseason.
You have signed a letter of intent to play for Johnson County Community College in Overland Park, Kan. What did you like about the school?
It just felt like home when I visited. JCCC is a good fit for me because it is one of the bigger community colleges in the Midwest, I have family close to the Overland Park area, and it has a great softball program with amazing coaches. They have placed third, fifth and seventh in the World Series over the last four years, and I hope to help them win a national championship.
What other schools did you consider?
I wanted to go the junior college route, so I also was recruited by Kirkwood, Highland, Iowa Central, Maple Woods and Daytona State, as well as a few four-year programs.
Did you do anything special for Father's Day?
My mom and I took my dad out to brunch at Eggs & Jam in West Des Moines.