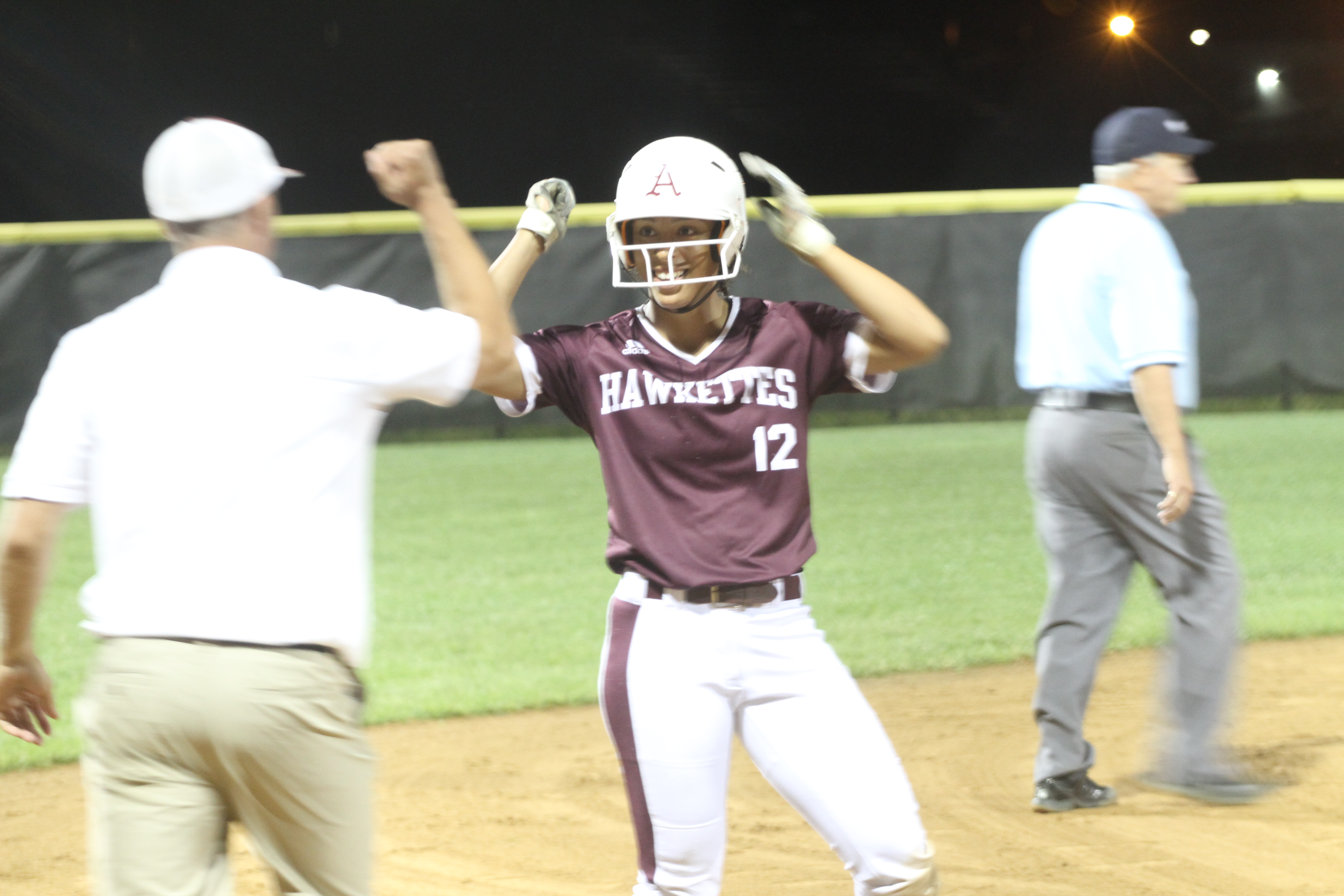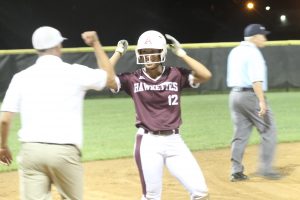 With one swing of the bat, Malea Daugherty lifted the Ankeny softball team back into sole possession of first place in the CIML Central Conference.
Daugherty hit a walk-off single with two outs in the eighth inning to give the 11th-ranked Hawkettes a 5-4 victory over No. 12 Southeast Polk in the second game of a doubleheader on Wednesday at Ankeny. The win allowed Ankeny to salvage a split of the twinbill after dropping a 7-2 decision in the opener.
Daugherty's bouncer up the middle gave pinch-runner Madeleine Murphy just enough time to race home from second base with the winning run.
"Right as I went up to bat, I just knew that I had to get something hard on the ground because I trust Murph to get home," Daugherty said.
The two teams split a pair of games for the second time this season. The Hawkettes are now 8-3 in the conference and 18-6 overall, while Southeast Polk's records are 7-4 and 16-7.
Ankeny held a 2-0 lead in the nightcap before the Rams rallied for four runs in the sixth inning. Peyton Moffet hit a two-run single to ignite the rally.
The Hawkettes then tied the game in the bottom of the seventh, when Jasmine Rumley slugged a two-run triple to right field with two outs.
"I was just trying to hit it to the right side so everybody could get in," Rumley said. "That's what I did."
Reliever Lexi Hilzer then came in for Southeast Polk and intentionally walked Kennedy Thomas. She retired Marina Carter on a liner to third to end the inning.
Zoe Baker hit a one-out single in the eighth and was replaced by Murphy, who advanced to second on a grounder. Daugherty then followed with the game-winning hit.
"I had two strikes and I knew the way (Hilzer) was pitching, I was like, 'I'm hitting this as hard as I can,'" Daugherty said. "And I did, so that was good."
Thomas (5-1) was the winning pitcher. She allowed just one earned run on seven hits.
Carter went 2-for-4 with a pair of doubles in the win. Daugherty and her sister, Peyton, also had two hits apiece along with Rumley and Thomas.
Although Ankeny coach Dave Bingham was happy to get the win, he clearly was hoping for a sweep.
"That's the kind of game we should win with our tradition," Bingham said. "Overall, I was just disappointed with our effort. I thought it was one of the worst nights we've had this year. I'm never like that, but I just expect more out of our girls and the expectations are higher. But to win in a walk-off, these girls don't think as much about the big picture and they look at it more one game at a time, so they're resilient. It doesn't hurt our long-term chances."
Southeast Polk used a five-run fifth inning to win the first game. Paige Jacobsen (8-3) took the loss, allowing eight hits and six runs–just two of them earned–in 4 2/3 innings.
Peyton Daugherty, Rumley and Thomas each went 2-for-4 for the Hawkettes. Rumley scored one run and drove in another.
Hilzer tossed a seven-hitter and had six strikeouts. The Rams had four doubles among their nine hits, one of them by Moffet, who knocked in two runs.
The doubleheader was played after a day of rain threatened to postpone the games. It took a huge effort by Ankeny's athletic department staff to make the field playable.
Bingham refused to use the uncertainty around the status of the games as an excuse for his team's slow start in the doubleheader.
"External factors and unhelpful dialogue are just killer to any youth teams," he said. "Southeast Polk had to go through the same things, but when you look at their situation, they were excited to play us. It was meaningful to them, and I don't know if we had that same approach. It's really up to the seniors, and I expect them to be better from here on out."