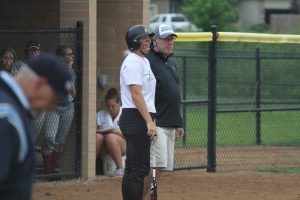 For much of the season, Ankeny Centennial slugger Chloe Olson has struggled to find her groove at the plate.
She appears to have found it.
Olson slugged three home runs and had seven RBIs as the Jaguars rolled to a 14-2 victory over visiting Des Moines Lincoln in three innings to complete a sweep of a non-conference softball doubleheader on Thursday.
"It felt really good," said Olson. "I went to the cages in between games and Trent Lindaman came over to help me change up my swing a little bit, and clearly it worked. I was focusing better at the plate the second game and waited for my pitch every at-bat. I had been struggling a little bit, and I think I'm in my groove finally."
As a junior, Olson was one of the state's top power hitters. She batted .342 last season with 10 home runs and 29 RBIs.
Prior to Thursday's nightcap, Olson was batting just .227 with two homers and 12 RBIs. She raised her average to .261 by going 3-for-3.
"It was good to see her get untracked," said Centennial coach Randy Schneider. "I've been trying to push her to the back of the box a little bit and convince her that those extra 16 to 18 inches with her type of swing will really help her. I just encouraged her to try it.
"Hitting is all about being on time, and you've got to make adjustments to be on time. If you stay in the same spot, which a lot of kids do, you can pitch them the same sequence every time," he added.
Kinleigh Quam went 2-for-2 with a double and four RBIs for the Jaguars (14-11) in the second game. Taylor Runchey went 2-for-2 and also knocked in a run.
"We got a lot of kids in," Schneider said. "Quam stepped up and hit the ball hard all three times in that second game."
Kayla Stone (3-3) tossed a two-hitter and had two strikeouts in the nightcap. She allowed no earned runs in her first appearance since June 11.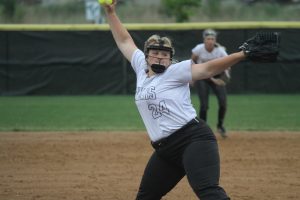 Karlie Kaiser (2-3) was the winning pitcher in the opener. She threw a five-hitter.
Ella Schulz had four RBIs in the win. She hit a three-run double in the fifth inning to end the game.
Cassie Severson went 2-for-2 with a triple and two RBIs. Lizzy Klunder went 2-for-3 and also drove in two runs.
Lauren Birt went 2-for-3 and scored three times. Cassi Garland added a pair of RBIs.
Lincoln (2-24) has lost 16 consecutive games.