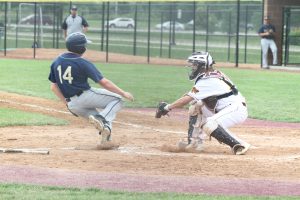 It took awhile, but the Ankeny baseball team finally got its offense untracked during the Brent Prange Classic on Saturday.
After dropping a 2-1 decision to Sioux City Heelan, the Hawks fell behind Bettendorf, 1-0, in their second game of the tournament.
Ankeny scored twice in the third inning to take a 2-1 lead. The Hawks then erupted for six runs in the fourth inning and five more in the fifth to post a 13-1 victory in five innings.
"Drew Hill had a big hit to the wall that scored a couple of runs, and it was kind of like a little weight was lifted off of everyone's shoulders," said Ankeny coach Joe Balvanz, whose team improved to 11-8 on the season heading into Monday's doubleheader at crosstown rival Ankeny Centennial. "I thought the guys responded well."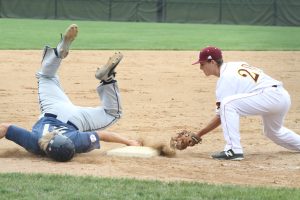 Brody Brecht and Hill each went 2-for-4 to lead the Hawks. Brecht drove in four runs, while Hill had a double, scored two runs and knocked in three more.
Seth Harpenau and AJ Slattenow each went 1-for-1 and scored three times. They combined for five walks.
Jayden Maifeld doubled and drove in two runs. Cameron Rinker doubled and had one RBI.
Will Casel (3-2) was the winning pitcher, combining with Austin Probasco on a five-hitter. He also had two RBIs and was named the Hawks' MVP for the game.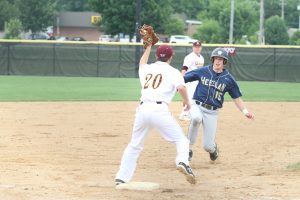 "We had Will on a pitch count because we need to bring him back on Wednesday," Balvanz said. "He didn't have a lot of strikeouts, but he's learning that he can trust his defense to make plays behind him."
Earlier, the Hawks lost to Sioux City Heelan. It was their first game in 10 days due to several rainouts.
Sophomore lefthander Brant Hogue combined on a four-hitter with Colin Kasperbauer. Hogue, who was making his first start of the season, was named the Crusaders' MVP.
"We certainly looked like we hadn't played in a week and a half," Balvanz said. "We just had too many popups and strikeouts to beat a really good 3A team. Heelan has a quality program, and they're not going to beat themselves."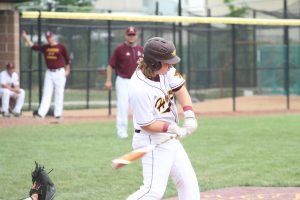 Harpenau scored Ankeny's lone run and made several nifty defensive plays at third base, including a double play to end the third inning. He was named the Hawks' MVP.
Maifeld hit an RBI single in the sixth inning. He drove in Harpenau, who led off the inning with a single.
Chris Spear (1-1) took the loss. He allowed one earned run on six hits while striking out five in 5 2/3 innings.
"Spear is just a no-nonsense guy who gets the job done," Balvanz said. "He isn't overpowering, but he gets guys to swing at pitches in the dirt because all of his pitches have some sink to them."