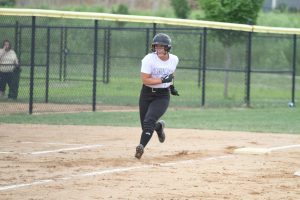 The Ankeny Centennial softball team will take a six-game winning streak into Monday's doubleheader against crosstown rival Ankeny after posting a perfect 4-0 record in the Brent Prange Classic over the weekend.
The Jaguars improved to 18-11 overall with a 9-1 win on Saturday over Ballard (Huxley), the No. 13 team in Class 4A. It was their third victory over a ranked opponent in two days.
"I'm not sure if we are peaking because I think we are still working our way up, and we feel we can still get a lot better," said Centennial outfielder Cassi Garland, who had four home runs in the tournament. "I think we are just having fun, and we trust each other to get the job done. All year we have been working hard to become a better team. Plus, we have played some really good teams and have a really tough schedule. I think the challenges we faced earlier in the year are just starting to pay off."
Haley Gatica (11-5) tossed a one-hitter in the five-inning contest. She walked two and had three strikeouts.
Franie Burnett homered and had four RBIs for the Jaguars. Garland also homered, her fifth of the season.
Chloe Olson and Carleigh Kray each had two hits and knocked in a run. Cassie Severson drove in two runs.
"Let's hope we can keep it going the rest of the way, because we still have a fourth of our season left," said Centennial coach Randy Schneider, whose team has outscored its opponents by 56 runs during its winning streak.. "I just hope we can stay healthy and keep playing well."
Earlier on Saturday, Centennial posted a 5-0 victory over Sioux City Heelan behind Karlie Kaiser, who evened her record at 3-3. She allowed four hits and three walks while striking out four.
Lauren Birt went 2-for-3 and scored two runs, while Olson had two RBIs for the Jaguars. Ella Schulz and Severson each doubled and knocked in a run.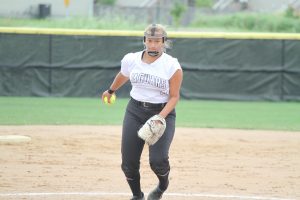 On Friday, the Jaguars rolled to a pair of 10-run victories over ranked opponents–both of them in six innings. Garland had a huge day at the plate with three home runs.
"I kind of challenged Cassi before the tournament to take a different approach and attack the ball, and it was amazing to me how she was just blowing it up," Schneider said. "When she's a little more aggressive, she's a great hitter for us."
Garland went 3-for-4 with two homers and five RBIs as Centennial opened the tournament with a 12-2 win over No. 14 Dowling Catholic. The Jaguars erupted for 10 runs in the second inning.
"I didn't really change much at the plate," Garland said. "I did make a slight adjustment to my hand position and bat angle when I start my swing. This way whether they pitch me inside or outside I can go with the pitch and hit the ball with more power.
"I also think our whole team is just having fun and we are more confident at the plate, so no matter who is up we can feel the energy of the team behind us and that just takes all the pressure off the at-bat," she added.
Kinleigh Quam went 2-for-4 and drove in three runs. Lily King went 3-for-4 and scored twice, while Burnett went 2-for-2 and scored three times.
Kayla Stone (4-3) was the winning pitcher. She allowed just one earned run on seven hits.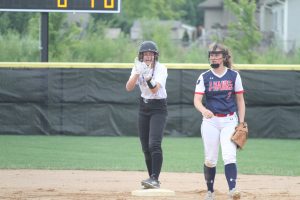 The Jaguars then followed with an 11-1 victory over No. 10 Urbandale. Garland and Olson each went 2-for-4 with a homer and three RBIs.
It was Olson's team-leading sixth home run of the season. It was her fourth in the last three games.
Taylor Runchey went 2-for-4 with a pair of doubles and also drove in three runs. Schulz went 3-for-3.
Gatica earned the win on the mound. She tossed a three-hitter and had two strikeouts.
"I think our schedule has really toughened us up," Schneider said. "But the wins over Dowling and Urbandale were still really surprising to me. I didn't expect it to go like it did, but those were huge wins for the program and for the kids."