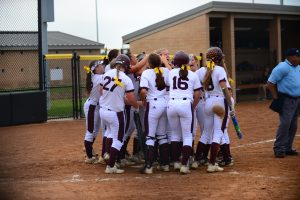 Even when Kennedy Thomas thinks she has hit a pop fly, the ball often carries over the fence.
Thomas hit a pair of home runs, including a go-ahead grand slam in the sixth inning, to lead the eighth-ranked Ankeny softball team to a 10-9 victory at rival Ankeny Centennial in a rain-shortened game on Monday.
"I did get a pitch I was looking for on the grand slam, but I thought I just missed it and it was going to be a pop fly," said Thomas. "I only knew it was out when I was rounding first base and saw it go over the fence."
Thomas drove in six runs as Ankeny remained a half-game ahead of No. 9 Valley in the CIML Central Conference standings. The Hawkettes are now 9-3 in the league and 23-8 overall, while Centennial's records dropped to 5-7 and 18-12.
The loss ended a six-game winning streak for the Jaguars, who had split an earlier twinbill at Ankeny.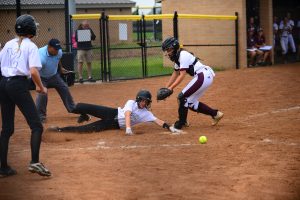 "Centennial seemed to be playing better from what I saw over the weekend (at the Brent Prange Classic)," Thomas said. "With it being a rivalry game, we knew Centennial would give us a run for our money. Neither team wants to lose; it's as simple as that."
The contest was called off in the top of the seventh inning due to rain and lightning. The second game of the doubleheader was postponed and may not be rescheduled.
"I'd love to play them again. I really would, because it's so much fun," said Ankeny coach Dave Bingham. "But I don't know if we'll have a date that works."
The two teams combined for 22 hits and nine errors in Monday's back-and-forth battle. Ankeny took a 3-0 lead in the third inning, capped off by Thomas' two-run homer, before the Jaguars answered with three runs in the bottom of the frame and two more in the fourth.
"(The rivalry) brought out the best in both sides," Bingham said. "There were some errors, but it was an exciting night and I think it sets a bar for what Ankeny softball can be when we're both competing. I think the kids on both sides learned something from that. If they come out with emotion against anybody, the sky's the limit to reach their potential for both teams."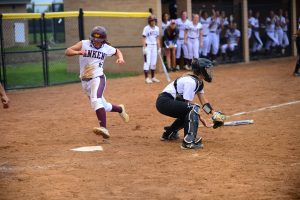 After each team scored a run in the fifth inning, Ankeny tied the game in the sixth on an RBI single by Regan Smith and a bases-loaded walk to Peyton Daugherty. Jasmine Rumley followed with a bunt, but was called out when the ball hit her in fair territory.
That set the stage for Thomas, who came to the plate with two outs. She then hit a blast to right-center field for her 11th home run of the season, giving the Hawkettes a 10-6 lead.
"It's that point in her career where we're going places if she grabs the torch and leads us to greatness," Bingham said of Thomas. "I think she took that to heart. She's incredibly talented, and both of (her homers) were oppo(site field). She can be extremely dominant, and when we're hitting balls out of the park it really sets a tone."
Marina Smith (2-1) was the winning pitcher. She tossed 1 2/3 innings in relief of Paige Jacobsen, who came back in to get the final two outs in the bottom of the sixth.
Jacobsen allowed an RBI single by Franie Burnett and a bases-loaded walk to pinch-hitter Carleigh Kray that pulled Centennial to within 10-8. Another run scored on a grounder by Haley Gatica before Jacobsen retired Cassie Severson on a fly ball to end the rally.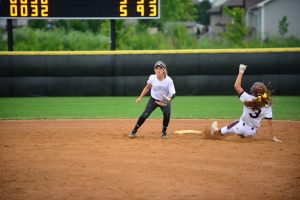 The Jaguars pounded out 14 hits, including two apiece by five different players. Gatica and Severson each went 2-for-3 and knocked in a run.
Chloe Olson went 2-for-4 and had two RBIs, while Cassi Garland went 2-for-4 with a double and drove in a run. Burnett also went 2-for-4.
Emily Bogle went 2-for-2 for the Hawkettes. Daugherty stole two bases, scored two runs and drove in two more.
Gatica (11-6) took the loss, allowing three earned runs on eight hits. She walked four and had three strikeouts.
"We have a lot of respect for them," Bingham said. "I don't know if there's a better pitcher in the state than Haley. She's one of the few pitchers who can throw in the mid-60s and really gas it up there, but we're blessed because our lineup can handle all kinds of talent on the mound. It took us awhile to get going, but to score six runs in an inning against a pitcher like that shows the grit that we have."