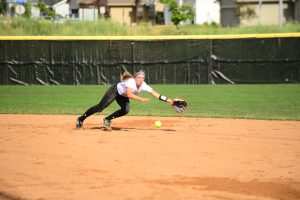 The Ankeny Centennial softball team showed on Tuesday that it has the potential to make some noise in next week's Class 5A regional tournament.
The Jaguars also showed that they still have a ways to go.
Centennial jumped out to a 7-1 lead against ninth-ranked Valley in the second game of a CIML Central Conference doubleheader before the visiting Tigers erupted for eight runs in the fifth inning to rally for a 9-7 victory. That allowed Valley, which posted a 5-0 win in the opener, to complete a sweep of the season series.
"I think we put up a good fight against them," said Centennial pitcher Mackenzie DePhillips. "It just didn't end the way we wanted it to."
The sweep also allowed Valley to move ahead of No. 8 Ankeny and into sole possession of first place in the conference. The Tigers, who have won 10 of their last 11 games, are now 11-4 in the league and 21-8 overall.
The Jaguars' records dropped to 5-9 and 18-14.
"They're a really good team," Centennial senior Chloe Olson said of the Tigers. "They know how to execute."
Valley's huge rally followed a controversial play that resulted in an injury to Centennial shortstop Franie Burnett. Burnett left the game after colliding with a Valley runner while trying to make a play in the field.
Centennial coach Randy Schneider argued that interference should have been called to no avail.
"That was a tough inning to endure, but there's not much you can do about it," Schneider said. "I felt like it was interference, and it would have changed the whole complexion of the game. But it is what it is. I don't want to be an umpire, and I don't want to make those calls."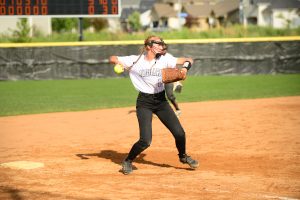 After Burnett was helped off the field, Schneider moved Olson from first base to shortstop. It's a position she has not played for a long time.
"Probably 10U was the last time, I don't know," Olson said. "I asked coach to play shortstop at the beginning of the year, and he said you'll get a chance. Tonight was my chance."
Shortly thereafter, Jessica Olander hit a bases-loaded double off the left-field fence to drive in three runs. She then scored on a single by Kendra Schramm to cut the Jaguars' lead to 7-5.
DePhillips was then replaced by reliever Karlie Kaiser (3-4), who was greeted by Hailey Etzel's game-tying two-run homer. Claire Stalzer later hit a two-run double to provide the final margin.
"Our pitchers were throwing strikes, but they were just hitting the gaps," Olson said.
Olson went 2-for-3 with a home run and two RBIs in the loss. She hit a solo blast in the second inning for the Jaguars' first run of the night.
"I knew it was out off the bat," Olson said of the homer, her seventh of the season. "It felt good on my hands."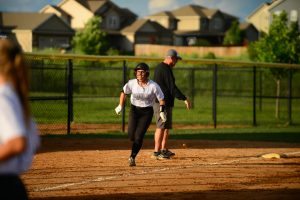 Kennedee Jones also had a home run for the Jaguars, her second of the year. Burnett knocked in a pair of runs, and Cassie Severson added an RBI double.
DePhillips made her first start of the season on Senior Night. She was honored between games along with Olson, Lauren Birt and Kinleigh Quam
"It was really fun," DePhillips said. "I like playing for my team."
DePhillips allowed just one run through the first four innings.
"It was good to see our kids battle," Schneider said. "To see Mackenzie pitch like that against Valley, I actually thought she did a great job. She kept us in the game early on and was changing speeds. I was really proud of her and Kinleigh behind the plate. It was good to get all of our seniors on the field for the game and playing a tough, competitive game against one of the top-ranked teams in the state. I definitely think it makes us better."
The Jaguars were held to four hits in the first game, including a double by Olson. Kayla Stone (4-4) took the loss, allowing four runs on six hits in four innings.
Olson said she thinks her team can do some damage in the upcoming regional tournament.
"We just need to execute and get on the pitchers at the beginning of the game and just keep pushing," she said.