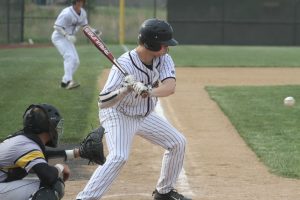 The Valley baseball team clinched at least a tie for the CIML Central Conference title by sweeping Ankeny Centennial for the second time this season in a make-up doubleheader on Friday at Centennial.
The Tigers posted a 15-5 victory in six innings in the opener, then rolled to an 11-2 triumph in the nightcap. They improved to 13-5 in the conference and 22-12 overall, while Centennial's records dropped to 6-11 and 13-15.
"Our pitching just wasn't real strong that night, but I thought other aspects of our game were still pretty good," said Centennial coach Mark Hey. "We're just looking to put everything together right now."
Valley holds a two-game lead over sixth-ranked Southeast Polk with just two games left to play. The Tigers will host a doubleheader against Ankeny on Monday, while Southeast Polk hosts a twinbill against Ames. The Rams could tie for the crown with a sweep if Ankeny also sweeps Valley.
Four Valley pitchers combined on a three-hitter in the second game. The Tigers also got a big game at the plate from Ben DeTaye, who went 3-for-4 with a pair of triples and five RBIs.
Joe Healy (2-3) took the loss. He allowed seven runs, four of them earned, on five hits in the first two innings.
Valley won the first game on the strength of an eight-run third inning. DeTaye went 4-for-5 with a triple, scored three runs and drove in two more, while Michael Bryan went 3-for-4 with a double, a triple and three RBIs.
Trey Morris went 2-for-2 with a double and two RBIs for the Jaguars. Ryan Vermeer went 2-for-3 with a double and one RBI, and Kaden Bollwinkel also doubled and drove in a run.
Logan Neils (1-1) took the loss. He allowed eight earned runs in 2 1/3 innings.
Centennial 8-7, Ames 0-8
The Jaguars split a Central Conference doubleheader on Thursday at Ames as sophomore Alex Greiner tossed a four-hit gem in the opener before the Little Cyclones rallied to win the nightcap.
Greiner walked none and had three strikeouts while raising his record to 3-0. He lowered his ERA to 0.67.
"Alex has done an outstanding job," Hey said. "He's made three starts and looked great in all of them. He's definitely earned a right to throw against some better teams and to see what he can do."
Josh Meador went 2-for-5 with a home run and four RBIs. Keaton Gray went 3-for-4 and scored twice, while Bollwinkel went 2-for-3 and knocked in a run.
In the second game, Centennial scored six runs in the sixth inning to erase a 4-1 deficit. Ames then responded with four runs in the bottom of the sixth, capped off by Jack Rogers' RBI single that put the Little Cyclones ahead.
In the top of the seventh, Derek Boike reached third base with one out before Meador hit a pop fly that Ames first baseman Kaden Peterson caught in foul territory right in front of the Centennial dugout. Boike tagged up and tried to score on the play, but Peterson threw a strike to catcher Chris Fowles, who tagged Boike out for a game-ending double play.
"It was a heads-up play by Derek," Hey said. "The first baseman had to make a perfect throw, and the catcher had to make a perfect tag. But I liked his aggression on the play."
Morris doubled and had three RBIs in the loss. Cory Prange went 3-for-4 and scored twice, while Boike and Meador each went 2-for-4.
Meador (0-1) took the loss. He gave up five earned runs on seven hits in two innings after replacing starter Tyler Heinzerling.
"It was a tough one, but I was proud of the way our kids battled back," Hey said.