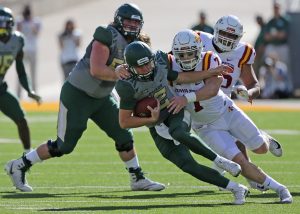 If Joel Lanning is going to earn a spot on the Dallas Cowboys' final roster, he knows he'll have to do it through special teams.
The former Iowa State linebacker signed with the Cowboys as a free agent after not being selected in the 2018 NFL Draft. He is back in his hometown of Ankeny now after attending three weeks of OTAs (organized team activities) and another week of mini camp.
Lanning has been busy working out in preparation for the start of fall camp later this month, although he took a short break last week to attend an Ankeny vs. Ankeny Centennial baseball game.
"I feel good (about my chances to make the team)," said Lanning, who earned all-state honors in both football and baseball at Ankeny. "I don't really know how I feel about linebacker right now–there are a lot of good guys in front of me. But I just have to take it one day at a time. I'm going to have to survive on special teams for awhile, make my living there and that's fine with me. I just want to do whatever I can to help those guys on special teams."
The 6-foot-1, 238-pound rookie is listed as No. 43 on the Cowboys' roster. He has been working out at several different positions thus far.
"They've got me at Mike (middle linebacker) and Will (weakside), and obviously special teams," Lanning said. "And they kind of taught me how to long snap, too."
The Cowboys will take about 90 players into fall camp. Lanning said he'll do whatever it takes to make the 53-man roster.
He could also earn a spot on the practice squad, which consists of about 10 players.
"The special teams coach likes me," Lanning said. "He pretty much told me that it's just another thing to add to your resume. There's a better chance to keep you around the more valuable you are."
Lanning earned all-American honors last season after helping Iowa State to an 8-5 record and a Liberty Bowl victory over Memphis. He led the Cyclones with 114 tackles, including six sacks.
Lanning is one of four ex-Cyclones on the Dallas roster. Fellow rookies Jake Campos and Marchie Murdock are also trying to make the roster as undrafted free agents, while defensive lineman David Irving is a four-year veteran for the Cowboys.
Lanning said it didn't take long for him to recognize the differences between the college and NFL players.
"Everyone there in camp was athletic, even the big guys," Lanning said. "Everyone is making plays and doing their part. Everyone knows what they're doing, and they're playing as fast as possible. It's pretty crazy to watch. The first few days they made the rookies just come out and watch the vets go through some practices and things to see what it was like. It's pretty eye-opening to watch (linebackers) Sean Lee and Jaylon Smith, guys like that, go to work.
"The practices are pretty similar to college practices, but the mental part is a big step up," he added.
Lanning said he expects the Cowboys to keep eight linebackers on their final roster.
"They've got to have a two-deep and maybe two more linebackers that know everything, but who knows?" he said. "It's kind of up in the air, depending on what everybody can do and who they want to keep."
Lanning will report to Dallas on July 23. The team will then fly out to California for the start of fall camp.
Lanning said he plans to treat every practice like it could be his last one.
"You never know what's going to happen," he said. "Guys will be in meetings one minute and then they'll be let go. You literally have to bring your stuff every single day and act like it's your last day. You have to give it everything you've got, and that's what I'm going to do."